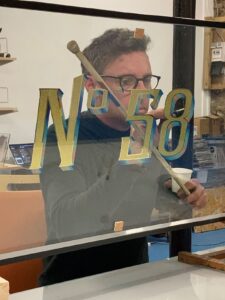 Robert 'Umberto' Walker is the owner of Signs by Umberto. A sign-writer as well as an educator, Robert specialises in traditional signwriting, reverse glass sign making and large scale typographic murals. His business is based in Huddersfield, West Yorkshire. The name 'Umberto' comes from a childhood name given to Robert by his father, who gave each of his sons a nickname from the world of films.
Background
Robert grew up in Shelf, near Halifax. He began sign writing in 1991 at the age of 14, doing work experience with a local sign writer based in Bradford, West Yorkshire. Their job was to paint large wall pieces for the Eureka children's museum in Halifax. Robert's love of typography started about this time, including a keen interest in the art and design sector. He began a course studying art and Halifax College in the mid 1990s, studying graphic design including advertising, typography and logo design. At the same time he also worked as a technician in a DT department at a high school, which included workshops and demonstrations for all year groups.
Around 2008 Robert began a Masters course in International Graphic Design Practice. He also began a Post Graduate course in Lifelong Education, focusing on art and design with a view to becoming a teacher – and found himself becoming a lecturer in Further Education. He quickly became a course leader for both A-Level Graphic Design and BTEC National Diploma in Graphic Design. Robert became a Senior Lecturer in Graphic Design running the first year on a BA (Hons) course in Graphic Design in 2013. He resigned from a full time post as lecturer in 2017 to refocus his passion for typography and in particular sign writing.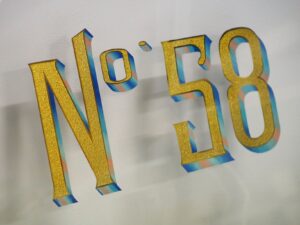 Specialisms
This focus has led to a passion and specialism in reverse gilded glass sign making, or Verre Églomisé. This is the traditional technique of gilding on the reverse side of glass, creating a soft mirrored effect. Robert was taught artisan techniques by David A. Smith, a traditional ornamental glass artist from Torquay, having watch a video of the master at work with his students while teaching.
Reverse gilded glass sign making is just one of the techniques that Robert uses in his studio today. He also offers acid etching, oil gilding, water gilding, sand blasting, glue chipping and sign writing, to name just a few. Robert aims to continue training in this field to be able to offer brilliant cutting and silver mirror making into the mix, after being awarded a scholarship from the Queen Elizabeth Scholarship Trust.
Robert aims to grow the business to a point of opening a showroom that showcases his glass sign work. His company ethos is simple: make the sign the very best you can make it, each and every time. If a sign is made well and with integrity, he believes the business will grow. Robert's clients connect with what he makes, so at the heart of each project is a personal story. Robert recently completed a house number for some clients. The numbers were acid etched and gilded, with a hand painted block shadow and positioned above the door. The house had belonged to the client's grandmother who had passed away. The style of lettering for the numbers was in keeping with the time the house was built.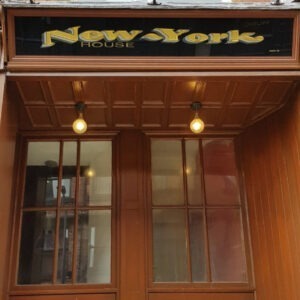 More projects
Robert is passionate about working with clients who have an interest in architectural historical value. One such client was Rushbond PLC who commissioned a 3m-long sign for New York House in Leeds City centre. The sign was at the heart of the oldest street in Leeds. 
The typography he used relevant to the age of the building and was also in keeping with the original reverse gilded signs on other buildings of the company close by. Techniques such as carved panels, oil gilding, water gilding and blended block shadows were used and applied in reverse to the back of the glass by hand.
Robert has recently completed his largest wall mural to date in Settle in the heart of the Yorkshire Dales National Park. The wall is 27ft high and almost square. The lettering has all been designed by hand at the studio which has its roots in advertising and logo design from the mid 1800s to around 1950, all from Yorkshire.
The lettering has then been drawn directly onto the wall before being painted by hand with no tape, all freehand and with accurate acute details. 
Looking ahead
Robert continues to take on commissions and learn skills that further enhance his work and knowledge in the studio. He wants to use his talents to the full – and continue to work on high profile commissions for the community as well as inspiring others to learn the craft.
For further information contact via:
Robert Walker, Signs by Umberto
Phone: 07578 621912
Website: www.signsbyumberto.co.uk
Email: signsbyumberto@gmail.com