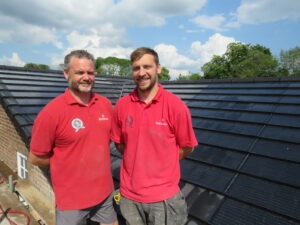 Guild HQ recently took an excited call from Steve Wyatt of SW Building Contractors of Marlborough (Award winning Guild members since August 2020)) who was delighted to advise of an exciting recent project incorporating the latest design in solar panels. Teaming up with NELSKAMP and their UK supplier, Steve and his team installed a solar roof that avoids the rather ungainly panels on roof tops with panels that are fully integrated with the tiles. Not only do these panels work well, they look great too, especially important in higher value properties across the Cotswolds and Marlborough area where the SW team work.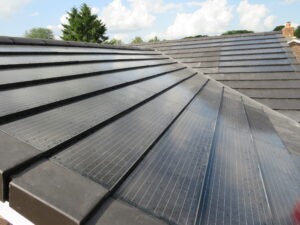 Nelskamp are family owned, based in Schermbeck, Germany and their solar tiles have a hanging nib and side interlock for swift, easy and secure laying, require only three screws and are delivered ready to install. The variable overlap area permits a uniform roof layout, while the prefabricated cables with MC4 plugs allow for safe and simple connection. It really was an easy job and delivered a very happy client who has previously been unable to find a suitable installation. 
With solar panels playing their part in the green revolution it is no surprise SW Building Contractors are looking for clients who will enjoy a good looking and green upgrade to their property and power supply.