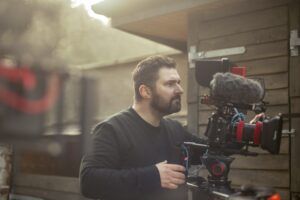 Grit Pictures Ltd, based in West Yorkshire, has conceived, shot and edited content for industry-leading companies including Travis Perkins, Jet2holidays, Channel 4 and Cartwright & Butler. In a world where digital innovation is reshaping industries, one might not expect a video production company to align itself with the traditional values of craftsmanship. However, Deryn Carr, the entrepreneur behind Grit Pictures, is defying expectations by not only becoming an involved member of The Guild of Master Craftsmen, but embracing traditional craftsmanship values to shape the inner workings of his (predominantly digital) business.
The Guild sat down with Deryn to delve into the motivations, values and aspirations that have led Grit Pictures to this unique partnership.
Q: Why did you join the guild?
Joining The Guild of Master Craftsmen was a natural progression for us. We share a deep appreciation for the artistry, dedication and pursuit of excellence that master craftsmen embody. We recognized that the Guild's values aligned seamlessly with our own, making it an ideal platform to connect with like-minded professionals, albeit in (often) entirely different industries!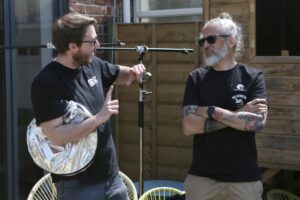 Q: As a digital business, what compelled you to join the Guild of Master Craftsmen?
Digital craftsmanship is an integral part of our identity. We believe that the fusion of cutting-edge technology and traditional values creates truly exceptional results. We mostly work with account managers at the cutting edge of digital marketing, but our approach is very much old school, straight talking, no-nonsense, rock up on time with your sleeves rolled up and ready to muck in, with expertise placed front-and-centre above all else. Joining The Guild of Master Craftsmen allows us to contribute to a diverse community where this is very much commonplace, while staying true to our commitment to craftsmanship in the digital realm.
Q: Why is the membership important to your business?
I'm not going to lie, it's a great promotional tool in so far as stamping our own unique credentials on our work. For me, the membership provides a seal of approval that speaks volumes about our dedication to quality. It enhances our credibility through and through. And once clients discover that our membership is under constant review, based on the standards of our work, it becomes quite an impactful point of difference. Our membership also connects us with a network of skilled professionals across various industries.
Q: You have a 'Proper Commercial Filmmaking' mantra, can you tell us more about this?
Our 'Proper Commercial Filmmaking' mantra is the heartbeat of Grit Pictures. It encompasses a set of core principles that drive our approach to work on a daily basis. Built Reet (professional quality production and post-production work), Heart and Soul (bringing care and creativity to every project), Talk Straight (giving honest feedback on client's ideas and proposing our own) and Don't Flap (staying calm under pressure) are the pillars upon which our journey to success and industry recognition has been built. They're pretty much our compass to create consistently inspired work.
Q: You have an interest in the building and manufacturing sector – why is this?
We're makers ourselves. It's an industry that we relate to through and through. As a result, we've worked with many clients in the building industry, most notably Travis Perkins, alongside a myriad of esteemed national and regional home builders. Closer to home, the vibrant industrial landscape of West Yorkshire is what keeps us ticking over. From crafting surgical implements to engineering submarine hatches, our region is teeming with industrious creativity, with an entire spectrum of innovation right at our doorstep.
Q: What are your plans for the future of the business?
We're still working that bit out! Our aspirations are quite modest in that regard and our main goal to grow our reputation appears to be in sight already. I would like Grit Pictures Ltd to be recognised for our commitment to quality for many years to come; it's served us well so far and allowed us to operate under the radar with little to no advertising, so it's clearly a formula that works. Outside of work, we're also laying serious plans to strengthen our community ties further; we actively contribute to local causes that align with our values. Calderdale is a real hub of charity and goodwill and playing even a minor part in that is massively rewarding.
As Grit Pictures Ltd. forges ahead, it's clear that their partnership with The Guild of Master Craftsmen is not just a formality, but a powerful testament to their dedication to craftsmanship, innovation and excellence in the digital age. Through their commitment to authenticity, their 'Proper Commercial Filmmaking' mantra, and their alignment with traditional values, Grit Pictures is poised to shape the future of storytelling and leave an indelible mark on the world of digital craftsmanship. They'll get it built Reet!!