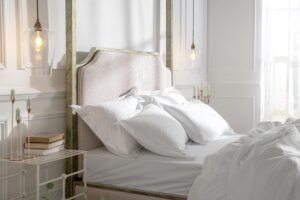 Wrought Iron and Brass Bed Company – members of The Guild of Master Craftsmen, have collaborated with Baavet to produce a unique range of Sandringham wool bedding authentically crafted in Britain. 
Have you ever wondered about the origins of your bedding? While it may be advertised as made from British wool, have you ever considered where it was produced? After discovering the true provenance of her British wool bedding, Amanda Oldfield, the founder of the Wrought Iron and Brass Bed Company, was profoundly unsettled and vowed to make things right with the assistance of fellow Made in Britain member – Baavet.
"Stephen and I founded Wrought Iron and Brass Bed Company after I was duped into purchasing two metal beds, being led to believe they were handcrafted in Britain and were not, unfortunately these practices continue today" Amanda says.
A carbon Neutral+ company and long standing Guild of Master Craftsmen member, Wrought Iron and Brass Bed Company prioritises sustainability and handcrafting its products from 100% British-sourced raw materials. However, after researching the ethical standards of select third-party suppliers, they devoted even more time and energy to their commitment to authenticity and environmentally friendly goals by severing ties and producing all their products to their very own high standards of traceability by their exceptional team of artisans.
Authentically 100% British
In Spring 2023, Wrought Iron and Brass Bed Co. launched the highly anticipated Sandringham Wool Collection of mattresses. Bringing a new level of luxury to the market and rejuvenating the phrase 'hyper-local sourcing'. Working closely with Sandringham Estate and exclusive to Wrought Iron and Brass Bed Co – 100% of the fleece within this collection is sourced from the Aberfield sheep that roam the organic pastures of Sandringham Estate – with a small herd less than 100m away from the doors of their workshop.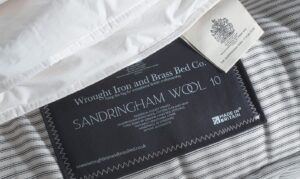 Amanda's investigation into the third-party products offered to customers revealed destressing information regarding the origin of portrayed British products and imported fillings used as supplements. "When I started investigating the third-party products we offered our customers I was horrified to discover the origins of where these British claimed products were made or that fillings were supplemented with imported alternatives.
This discovery paved the way for Wrought Iron and Brass Bed Co. to expand the Sandringham Wool Collection and collaborate with Baavet to create an authentic British-made, British wool range of bedding.
This exclusive range, consisting of three duvets and mattress toppers, boasts layers of luxurious 100% Sandringham wool is available only at Wrought Iron and Brass Bed Co., consumers can indulge in the comfort of authentic British-made, traceable-to-the-farm wool bedding.
In honour of Wool Month this new collection was launched on Sunday October 15th and customers can place orders now at Wroughtironandbrassbed.co.uk