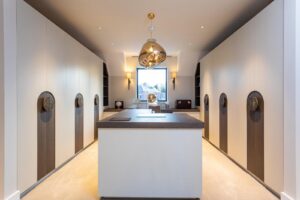 Oliver Knights are a family business specialising in the design and manufacture of high quality architectural hardware. The company produces a wide range of precision products that are used in the construction industry – including door knobs, lever handles, pull handles, cabinet handles and sliding door furniture.
The entire collection is designed and manufactured in their workshop on the north side of Birmingham, a city famous for being at the heart of UK manufacturing. Oliver Knights combine the accuracy of using advanced CNC milling and turning equipment with old school manufacturing techniques to offer a wide range of quality products.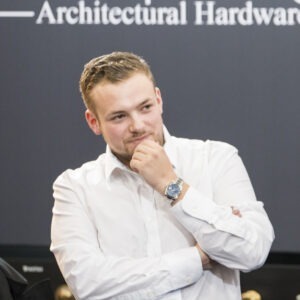 The company is proud of its history that stretches back over three generations. The workshop first opened in 1972 and began by supplying products to the aerospace, petrochemical and automotive industries.
In 1995 they began to lay the foundations of the company as it is known today and started supplying many well-known names across the architectural industry, later founding the Oliver Knights brand.
The design and manufacturing process
Working mainly with interior designers and architects the company today produces both standard and bespoke designs. Oliver Knights have complete control over all aspects of the design and manufacturing and processes with all work completed in-house.
Being able to handle all stages under one roof from designing the product to completion gives the company a competitive advantage. They are able to design products to fit a client's specification, sometimes from just a sketch, a technical drawing or an existing piece. Any item can be modified to change its size or its function.
The inhouse design teams can offer technical drawings, 3D rendered product images and exact physical samples from the workshop. These can be examined by the client before production, which provides a highly accurate representation of the finished design.
Controlling all design and manufacturing processes also allows the company to provide their clients with accurate lead times and the highest quality product.
Materials and finishes
All the products made in the workshop are manufactured from solid brass (or bronze). Each piece of material is certified for its purity and elements and is drawn pure, with no imperfections in the metal. All the materials used are sourced from local suppliers and each piece of metal has a property certification.
The advantage of manufacturing from solid brass is that it produces a perfect product every time with no imperfections.
Oliver Knights are able to offer nearly a hundred different finishes for their products. All are hand finished with the option of a natural living finish or a protected finish. Living finishes on architectural hardware mean that the pieces age uniquely and beautifully over time, providing charm and character.
The specialist workshop and hands-on approach by the company allows Oliver Knights to provide an outstanding service to their clients alongside a personal touch.
Outstanding reputation
Over the years Oliver Knights have built an outstanding reputation for attention to detail and have been able to offer limitless capabilities. They pride themselves on being able to offer a product that can meet their clients' exact specifications.
Their hardware has been used for the most exclusive properties and hospitality projects and high-end commercial and public sector establishments. They have also worked with interior designers on products for private yachts and privately owned jets.
Whilst their largest coverage is London the company continues to grow at speed. Oliver Knights have supplied their products all over the globe including New York, Los Angeles and many other locations around the world.
Today Oliver Knights continue to provide a complete in-house bespoke service. They offer a fast turnaround and aerospace quality products, keeping up to date with the latest CNC technology. They strive to achieve perfection, treating every piece like an item of precious jewellery.
Oliver Knights love nothing more than bringing their clients' design ideas to life, creating hardware which is superb quality, long lasting and aesthetically pleasing.
For further information contact via:
Oliver Knights, Anchor Brook Industrial Park, Unit F4 Lockside, Walsall, WS9 8BZ
Phone: 01922 455 323
Email: info@oliverknights.com