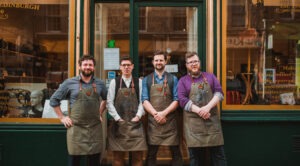 Mackenzie Leather Edinburgh was established in 1990. Originally situated in the picturesque Victoria Street, it now finds its home in St Mary's Street at the heart of the old town. The current owner, Simon Harvey-Potts, began his trade in Spain nearly 20 years ago, making his own leather goods and selling them at local markets at the tender age of 19 before working as an apprentice in time-honoured fashion to truly become a master of the trade.
The passion, motivation and inspiration behind Mackenzie Leather Edinburgh comes from crafting goods in the finest Italian and Spanish leather. Over the last 30 years the company has developed quality and variety in all of its products while showing true dedication to the craft. The company creates bags by hand using skilled craftsmen working from core designs, which also keep up with current fashions. Each piece is considered a product of art.
The leather is tanned using traditional methods, with some tanneries going back five generations. Utilising the last available oak tanner in the UK, British oak bark bridle hide, the process of vegetable tanning is long and complicated but results in a unique product that becomes only more gorgeous to touch and look at with the passing of time.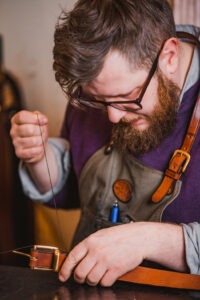 With full respect to the environment, the process allows the raw material to be converted into a strong leather that can last a lifetime. It's a slow transformation, taking up to forty days and combining the use of tannins extracted from fruits, leaves and roots of plants while using new technologies. Vegetable tanning gives leather a unique characteristic and gains additional character from wear. This gives the products their own worn charm.
Canvas is also used with the designs. The canvas used is 18oz waxed cotton, which gives it maximum strength and durability. The linings are made from 10oz lighter-weight waxed canvas. Waxed cotton was originally developed in the early 15th century when sailors fabricated capes from leftover pieces of oiled sailcloth to withstand the high winds and sea spray, keeping them warm and dry.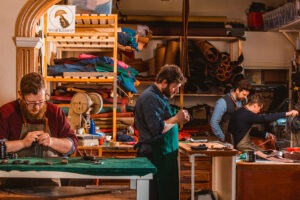 Today densely woven cotton with a paraffin-waxed coating is used for the canvas. The beauty of waxed cotton is its durability and longevity. The fabrics are also highly breathable, and the wax adjusts to be softer and more breathable in warm weather and stiffer and more windproof in cold conditions. The finish ensures that the fabric looks even better with age and gains plenty of character. Canvas is primarily used for Gladstone bags, satchels and Edinburgh briefcases.
All of these products are handmade in the workshop by a close-knit team who uphold the tradition of creating bespoke goods with passion and respect. The customer in the store has the unique experience of awaiting the perfect Mackenzie bag in its finest detail.
When markets are in turbulent times and mass production feels like it has run its course it seems that people are returning to smaller, more bespoke businesses to get what they truly want. They also get a true and long lasting bargain when purchasing goods from Mackenzie Leather Edinburgh.
Being accepted into The Guild has been a long-held target for Mackenzie Leather Edinburgh and a great honour for the business and everything it values.
'The finest leather goods that last a lifetime, reflecting yours.'
We are proud to have these craftsmen as part of the Guild family.
Check out their Guild profile here!
For further information contact:
Website: mackenzieleatheredinburgh.com
Address: 17 St Mary's Street, Edinburgh, EH1 1TA Tel: 0131 557 3969
Email: enquiries@mackenzieleatheredinburgh.com