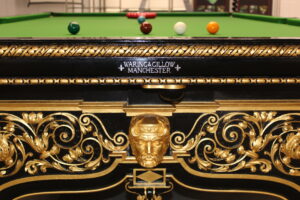 Premier maker in the precision world of Billiards and Snooker tables Hamilton Billiards are members of the Guild family. Originally established by Hugh Hamilton who worked in the billiard table industry for over 30 years before retiring in 2008. In July 2008 the company was bought out and is now owned and run by General Manager Ian Musk. The company was originally located in Knebworth, Hertfordshire. When they moved to Newnham in 2015 they took with them over 100 tons of stock and machinery!
The development of the company
Ian came to work for Hamilton Billiards back in 1997 for two days a week whilst at college studying cabinetmaking. This was a temporary measure whilst another member of staff was off sick. Ian then gained a distinction in City & Guilds and was taken on full-time. He started in the workshop sanding tables, slowly moving into making new tables as the demand increased.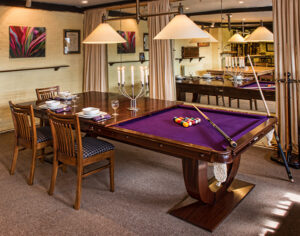 Over time, Hamilton Billiards grew and more staff were taken on. Ian became more office based, managing both the workshops and the staff. He was also dealing with customers on a daily basis and overseeing the design and build of bespoke tables. Shortly after buying the company the recession hit and through strong business decisions the company managed to carry on trading throughout and successfully came through.
Since then Hamilton Billiards have slowly built the business back up whilst remaining a small bespoke artisan company. They now have six staff members, three of whom have over 65 years' of experience between them.
The company has always stocked a large selection of antique and used snooker and pool tables as well as manufacturing their own snooker and pool tables. Today they are concentrating more on bespoke custom-made tables and convertible diners rather than mass produced items. Restoration is also an important part of their work and they restore and sell antique tables and convertible dining tables.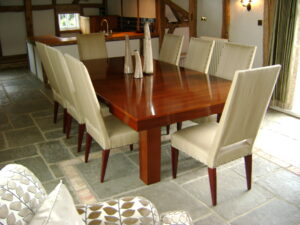 Introducing Kendal Restoration
In 2018, Ian bought out another company, Kendal Restoration. They have moved into the same premises as Hamilton Billiards, jointly utilising the 9,000 sq. ft of space and reducing their combined overheads. Kendal Restoration restores and upholsters high quality antique furniture as well as providing a bespoke framing service.
The two companies sit very well alongside and complement each other. This has doubled the number of staff in the building and offers everyone the advantage of the years of furniture restoration experience gained by Kendals. This helps in training new staff to maintain the traditional high quality the company are known for around the world.
Since Brexit, it has become more complicated for the company to export and deliver tables outside the UK, especially using their own fitters, but they continue to do so and now have tables in countries around the world.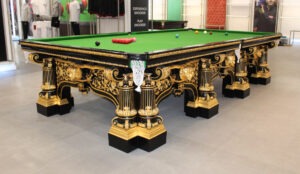 Meeting current demand
The demand for convertible diners and tables has increased since the start of 2020. People are spending more time at home and want to have multi-functional use of their furniture. The tradition of using a dining table on a regular basis is not so common these days, but customers still want to have the ability to host larger meals several times a year, so a snooker or pool convertible dining table is the ideal solution for them.
Recently Hamilton Billiards have installed several of their antique stock tables in the Ronnie O'Sullivan pop-up shop, located in Meadowhall shopping centre, Sheffield. This will be open for the world snooker championships during April and May 2022. One of the tables is a very ornate and rare table made by the famous furniture manufacturer Waring & Gillow around 1903. The table was beautifully restored, including 23.5ct gold detailing!
The showroom
Visiting the showroom of Hamilton Billiards in Newnham, customers can find a huge range of tables, cues, chairs, lights, accessories and games for indoors and outdoors. Their stock is one of the largest in Europe, with tables ranging in price to fit most budgets. On display are fifteen fully assembled tables of all sizes, both antique and handmade.
Customers are expertly guided through the process of choosing the right table for the space available, while the company provides excellent service and aims to deliver a product of outstanding quality to every customer.
For further information contact via:
findacraftsman.com
Address: Hamilton Billiards and Games, Unit 7, Newnham Road, Newnham, Nr Baldock, Herts, SG7 5DP
Website:
Email:
showrooms@hamiltonbilliards.com
Tel: 0800 9704455