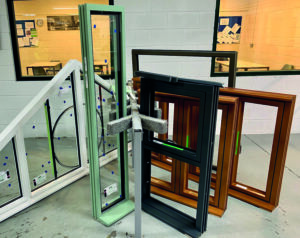 Allan Brothers have over 200 years of expertise in joinery. Generations of craftsmen at the company have created bespoke windows and doors. All their products are beautifully produced, bespoke and long lasting.
Background
The business was started by a timber importer and merchant Alexander Gilkie. In 1829 the company passed to his nephew, William Allan. William's sons Thomas and James took over the business in 1843. The sons renamed it Allan Brothers. They set out to achieve steady growth, and moved to a bigger site at Berwick-upon-Tweed. Both were both passionate about the business and wanted to create the very best in timber windows. This early commitment is the basis of Allan Brothers' outstanding quality today.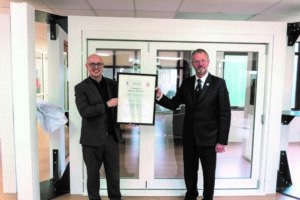 The business
Allan Brothers today is based south of the River Tweed, working from purpose-built factories. After years in private ownership, the business was bought by the company Inwido in 2007. This meant Allan Brothers has become an important part of Europe's leading window group.
The business is run by managing director Morten Bach Valsted, who joined the company in 2020. Originally from Denmark, he has worked across Europe within the door and window industry. This has placed him perfectly with Allan Brothers. He has his office on the factory floor – close to what makes the business a success!
Whatever style of door or window a customer is looking for, Allan Brothers is able to help. They often make bespoke windows and doors for heritage, period and listed properties. This includes historic castles! They still use old-style timber joinery features and traditional hardware. For new builds they make ultra-modern window and door designs. There is a range of glazing options that helps save energy.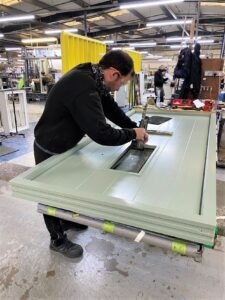 Manufacturing
Allan Brothers have a hardworking 70-strong team of employees. Over 50 of the team actually make the products. Their range of windows includes flush casements, storm-proof casements and sliding sash windows. There is also a wide number of design options available for doors. All softwood timber comes from FSC managed forests in northern Scandinavia. All doors and windows are carbon neutral.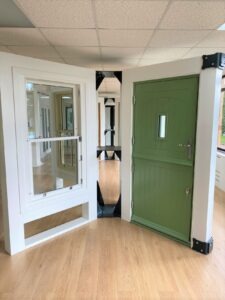 The Allan Brothers' factory has a clear and managed workflow. This helps them create high quality products. In the workshop each part is measured, then cut. It is checked, profiled, sanded and then checked again. Finally it is painted, assembled, checked, equipped and given one last check. All this is done under the beady eye of a knowledgeable team. On any given day the factory has 1,295 years of specialist experience among its employees!
keep a keen eye on the future. They make sure their products meet all standards, including the recent Secured by Design (SBD) standards. This new level of security is a police initiative that helps to make homes safer. This is achieved through a recognised design specification for all windows and doors to make them more secure.
Values
The company have a core philosophy of going the extra mile and 'getting it right' for their customers. This has inspired generation after generation of joiners and tradesmen. This can be seen in the quality of their carefully crafted windows and doors.
Allan Brothers are committed to keeping up the highest professional standards and providing excellent customer service. Ten years after their 200th birthday, they joined the Guild of Master Craftsmen in 2021. By flying the Guild flag, they show their dedication to modern-day excellence and craftsmanship!
If you are looking for bespoke doors and windows for your next project, get in touch via the links below!
Website: allanbrothers.co.uk
Email: enquiries@allanbrothers.co.uk