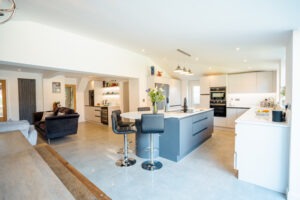 Founded in 2019, M Jarrald Construction is headquartered in Hadleigh, Suffolk and draws on over 30 years of collective experience to bring even the most ambitious client plans to life, all executed to the highest possible quality.
The family-run business covers Ipswich, Colchester, Sudbury and the surrounding areas and is co-headed by Project Director Martin Jarrald and Commercial Director Ben Grover, who both bring complementary skills to the table. Martin is a City and Guilds-qualified carpenter and general builder with more than three decades of construction work, including private residential work and fitted joinery, while Ben has a background in the commercial interiors industry, notching up the delivery of high-value sites for household names such as Google and Barclays.
Exceptional construction values
Made up of a small, highly professional team, M Jarrald Construction undertakes everything from bespoke new home builds and barn and other domestic conversions to extensions, renovations and loft conversions. The company approaches every project, whether large or small, with three core values of craftsmanship, honesty and professionalism. In 2021, the high quality of their work was further cemented and recognised when they gained Guild of Master Craftsmen membership.
The company always employs local builders who share an 'always do it right' ethos. And the many highly positive comments from satisfied customers on M Jarrald Construction's website are a testament to exactly how right they deliver results every time. A recent comment glows, "Martin and Ben were exactly what you dream of from a builder. They arrived when they said they would and finished when they said they would. The standard of their work and their employees was exemplary. I would recommend them wholeheartedly."
For further reassurance, the team also share a wealth of insights and transparent advice on their website, contained in a series of blogs. 'Understanding Self-build Extension Costs: Step by Step', 'New Building Regulations: What Are They and Is My Build Affected?' and 'How to Increase House Value: 5 Worthwhile Home Projects' are amongst featured subjects.
Recent projects
Several projects showcased on their website include a collaboration with Tim Moll Architecture across a 15-week remodel and renovation of a period Georgian townhouse, creating a large, light and airy space in the existing rear extension using large electric opening roof lights and full-width bi-fold doors. Another standout is a lean-to addition, involving major structural alteration where the entire back of the existing house was opened up to create a light-filled social space for the family to gather. Working with Franklyn Nevard Associates throughout the 22-week long project, underfloor heating and a brand-new kitchen with modern, integrated appliances are just two highlights.
In the best hands
Anyone who has undertaken extensive renovation, remodelling or new build work can probably agree that the biggest headache or potential pitfall is the stress of a runaway schedule or unexpected costs. M Jarrald Construction understands this issue and are highly capable project managers. From managing the supply chain to liaising with building control and specialist contractors, the team can ensure the smooth-running of the project, heading off any issues. An added advantage is their extensive knowledge of suppliers, which enables them to offer advice to keep clients' projects on schedule and on budget – with no compromise on design.
For further information contact via:
Website: mjarrald.co.uk
Phone: 01473 845945
Email: contact@mjarrald.co.uk