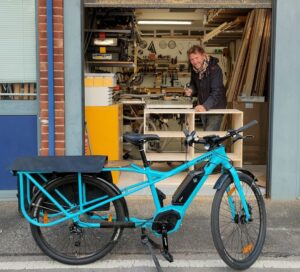 In many ways, the story of the Guild of Mastercraftsmen member Wine Storage UK, a specialist retailer offering luxury products such as high-quality wine coolers, wine racks, bespoke wine cellars and cigar humidifiers, echoes the maturing process of fine wine production itself.
While the company is a relative newcomer, Managing Director Clive studied at the Wine and Spirits Education Trust in London and spent over 20 years in fine wine imports. He now uses his extensive knowledge to handpick the best brands of wine coolers and ageing cabinets and manufactures his own contemporary wine storage range. Indeed, Clive's modular solid-wood Sommelier Wine RacksTM, handmade in the joinery workshop by skilled craftsmen, was named winner in the Best Retailer of Bespoke Racks category at the SME AWARDS 2022.
No underground cellar? No problem
Serious wine collectors who want to add to their collection but are hampered by a lack of space to accommodate an underground cellar will be particularly interested in the choice of wine ageing cabinets, available from a range of quality brands. Chosen to 'meet the requirements of the most demanding oenologists (wine scientists)', these specialist cabinets replicate underground cellar conditions and store wine in complete darkness, an essential environment for wine maturation or preservation.
Those looking for wine coolers are also catered for, with integrated, free-standing and built-in options on offer. There's also a choice of single or dual-zone wine coolers, the latter allowing for both 8°C temperatures required for daily-use wines and champagnes and 13°C for long-term preservation of reds, for example. Again, only top brands such as Pevino, Swisscave, Caso and Liebherr pass Clive's high standards and capacity options include 12, 24 and 171 bottles for single-zone models and 38, 62 and 200 bottles for dual-zone models.
Carbon-neutral and non-profit
Wine Storage UK is also rightly proud of its journey to carbon-neutral status. The biggest reduction in the Covent Garden, London-headquartered company's carbon footprint was moving the joinery workshop to a location reachable for all staff within a five-mile radius – ditching the need for fuel-powered cars. Now, the daily 'commute' is made by two electric bikes, including a cargo model that handily doubles up as a supply transporter.
Other initiatives included switching the company's wood supplier to guarantee a fully sustainable supply chain and the recycling of all wood offcuts. Therefore, customers have peace of mind that the wine rack they are purchasing is not harming the environment. The company also planted 500 vines on scrubland, each vine has over 2 square metre of leaf canopy which is a real co2 gobbler!
The award-winning Sommelier Wine RacksTM can be made in any combination and features include shelves, compartments and a compact cross-cube option. Wine cases from renowned vineyards – once an industry-wide wasted byproduct – are also ingeniously used to add further complementary storage space.
The cherry – or should that be grape – on top? Wine Storage UK, is also a non-profit company that donates any profits to a charity that provides bicycles for Ukraine. Now that's certainly worth raising a glass to.
For further information contact via:
Call: 0333 050 9563