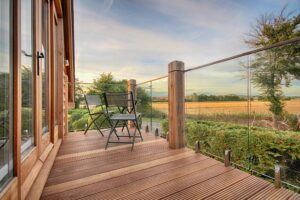 Creating a habitable space above an oak framed garage is an ingenious way to create extra living space for a home. When the Classic Barn Company adapted their classic design for the traditional barn they provided a garage at ground level and a bespoke room in the space above for accommodation. This space can be somewhere for your guests or used to generate an income stream through short term lettings.
As with all Classic Barn Company structures, the building is designed to have an array of traditional oak features and is finished to high standards using traditional and modern techniques. The living space has all the modern utility you would expect to see in a building, accessed via an external staircase.
For a quick look see The Classic Barn Company's latest video Dream Garages Crafted in Oak.
A well designed living space above a garage has proved to be a winning formula for The Classic Barn Company – and it's customers.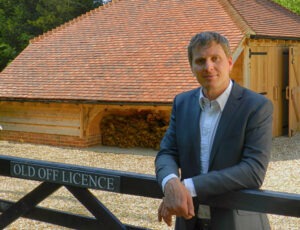 The Classic Barn Company
Run by director Andrew Guppy, The Classic Barn Company is a Guild Member and award-winning designer of beautifully crafted oak-framed buildings. Based in the heart of Hampshire and with a new office in Ascot, Berkshire it is within easy reach of many counties in southern England – where beautiful oak barns have become an enchanting addition to many properties.
Letting property
Many people are looking for additional space to work from home or simply more room for leisure or other activities. However, creating extra space is also an excellent income generating opportunity. If you're looking at investing in property or bringing in an income from letting property, having a Classic Barn room above a garage to rent out is a popular choice.
You would be providing a holiday getaway for clientele in a characterful home made with beautiful oak. There will be oak trusses and curved beams, there may be French windows, a Juliet balcony and all the conveniences of a modern home.
The room above the garage therefore makes the perfect holiday home for paying guests – and would all be designed and built by The Classic Barn Company.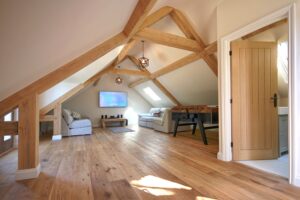 The popularity of Airbnb in the UK over recent years has created a renewed demand for property which can be rented out to paying customers. When The Classic Barn Company started to create rental accommodation, their website was soon overwhelmed with enquiries. This has proved a very popular development and is one that continues to bring in more customers due to the opportunity to generate premium income from oak barns of this calibre.
The success of creating Airbnb rooms for the rental market means that for The Classic Barn Company, business has been booming.
Take a look at Oak Garages with Room Above Accommodation on The Classic Barn Company website.
Increasing property values
Even if you don't rent out part of your property you can still invest in a well-built classic oak building. Traditional investments have yielded low returns in recent years, so putting it into property makes sense as a long term investment.
Adding buildings will enhance your home and contribute to its overall value. Building with oak is The Classic Barn Company's most unique and recognisable feature and is a popular choice for extending a home or business.
Meeting the challenges
Over the last few years The Classic Barn Company has gone from strength to strength.
Years of building up the business, developing a clear vision for the future and hard work have paid off. Their strong reputation means it now delivers a high volume of business, often through referrals and repeat business. To ensure a good fit, the company also selects the type of projects it takes on.
The Classic Barn Company has built up a wealth of experience and can work to meet the requirements of each client. Projects such as oak garages with accommodation above, barns, stables and workshops are designed as modular, but can easily be adjusted to provide a bespoke solution for each customer and are always built to high standards.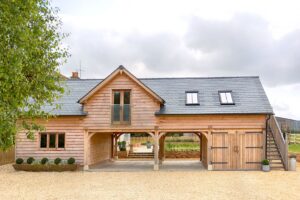 Every design can have high levels of sophistication, with electric doors and cutting edge bio-metric security requirements available if desired.
Luxury features can also be designed. A pool house, for example, has all the elements of a classic barn incorporated into a new structure. Such an addition adds an extra wow factor to a property and creates a memorable experience for family or paying guests.
Another option is to link buildings together at a property via an enclosed walkway. A glazed link or beautifully designed glass walkway can be practical and also enhance the value and appeal of a property.
Planning
Most of the customers of The Classic Barn Company live in rural communities, often in conservation areas and areas of outstanding natural beauty. The planning process may look daunting but need not be overwhelming.
The team at The Classic Barn Company are very experienced in dealing with the various aspects of Planning Permission and Building Regulations and will advise and guide through the process, while working towards a customer's goal. They uphold a notably high success rate with all applications.
For those that seek a full turnkey build solution, the designs produced by the company are flexible enough to add accommodation, facilities and landscaping that is sympathetic to the surrounding area.
Project management
The company can manage an entire project on the customer's behalf, from design and planning through to completion. This provides one-contractor accountability which is an approach that has proved very popular with clients. It also creates peace of mind as the project is costed in advance from start to finish with no unexpected surprises.
The key for The Classic Barn Company is to ensure that the customer is happy with the end result. They aim to create beautiful buildings that reflect genuine quality throughout. The service is designed to be both transparent and efficient and provide excellent value for money.
At the end of a project The Classic Barn Company will be pleased for you to pass on your positive experience to other customers.
The experts
As well as being members of the Guild, The Classic Barn Company are award-winning builders as a result of their craftsmanship skills and Andrew is regarded as an industry expert on oak buildings. The company has featured in a number of industry and lifestyle magazines and on Linda Barker's series The Home Game on ITV.
Getting in touch
For more information, contact Andrew Guppy and the team at The Classic Barn Company for a preliminary phone consultation or visit the website where you can download or request a brochure.