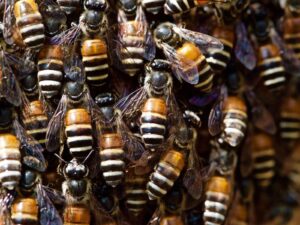 Managed by husband and wife team Simon and Caroline, the Artisan Honey Company is a low-volume producer of high quality honey and related products. The company also provides pollination services, education and informative talks from a small bee farm in rural Lincolnshire.
Simon Croson began his beekeeping journey to escape the keyboard pressure of a managerial office environment whilst serving in the Royal Air Force as an Officer Engineer. It started with the 'Introduction to beekeeping' course, which was a birthday treat from his wife Caroline. It changed Simon's life forever, taking him to places beyond his wildest dreams in an all-encompassing new passion.
Simon's love of photography allowed him to broaden his portfolio and discover the wider world of beekeeping as he explored and mastered his new hobby. His photographs received immediate recognition with numerous awards and offers of publication; the honey and wax products also received wonderful feedback from family friends. The awards soon followed.
The first award came in the first months of the beekeeping journey. The company has now gathered over 300 awards across the spectrum of shows from village shows to the World Honey Show (Apimondia) awards. Simon's photography has to date received two golds and a silver medal awards at World Honey Shows.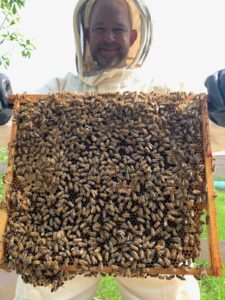 The company grows
In the early days the company consisted of a few beehives and the use of a friend's land to host the hives. However, such was the success of the honey products, the inevitable increase in hive numbers and associated space resulted in requiring more land. With the help of collaborative farm owners, more land was provided and a future career in honey production was nurtured.
Beginning with two colonies of bees in 2006, the business now has well over 300 colonies and is set up like a small farm. The hives are distributed amidst the Lincolnshire countryside which allows a wide range of floral sources for the honey, normally producing a blended honey with an occasional unique bouquet for the honey jar. The company's honey products were recognised and praised with the award of a BBC Good Food Bursary in 2011 allowing the Artisan Honey Company to become established at the BBC Good Food Show in the Christmas of that year. 
Simon and Caroline provide a wide range of honey, wax, pollen, photographs and written articles about all aspects of beekeeping. They can also supply a nucleus starter colonies of honey bees and a limited number of locally raised queens upon request, usually from early May through until August.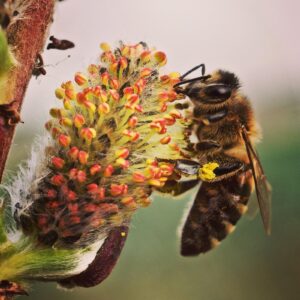 Pollination services
Pollination is a crucial part of growing the food we eat. Three-quarters of crop plants require pollination by insects and animals – and bees are one of the most important pollinators. In fact bee pollination is so important to UK food production (the economic value to the food business is estimated at £650 million per year) and the ecosystem that the UK Government has set out a National Pollinator Strategy – a 10-year plan to help make sure these insects survive and thrive. In the UK farmers have already planted the equivalent of 10,000 football pitches as wildlife habitats to provide homes and food for bees.
Simon provides farmers and growers with pollination services, such as honey bee colonies provided through the Bee Farmers Association or by direct private arrangement. For example, Simon sets up a bee population each year for 2-4 weeks for a cherry producer, which helps to improve the producer's crop size and quality. He also works with corporate companies to set up local bee populations that enhance the local wildlife and environment and so benefit the food chain.
Education
The company has also expanded to provide a wide range of educational services for all levels of beekeeping needs. Simon is keen to pass on his knowledge to beekeepers, interested groups and those new to the craft in the form of short courses and educational talks. He's passionate about teaching the benefits of pollination to the ecosystem and the food we eat, particularly in relation to honey bees.
Simon set up the Artisan School of Beekeeping in 2020, where a range of topics are covered including 'Bee experiences' and 'An introduction to beekeeping' for those with an open interest in beekeeping and 'Queen rearing', 'Products of the hive', 'Handling skills', 'Pests, diseases and disorders of honey bees' and 'Swarms and swarm control' for the more experienced. Simon hopes to expand the number of courses in the future and is keen to get more involved in corporate talks, corporate training and consulting thus helping urban corporations with the local targets of environmental responsibilities.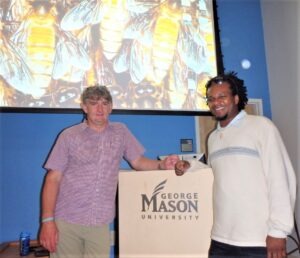 Simon has built up a wealth of knowledge about beekeeping. Beekeeping trips to America, Nepal, New Zealand, India, Morocco, Saudi Arabia and Europe have allowed him to capture some stunning images and stories to help provide the most interesting illustrated talks suitable for a wide range of groups. In addition he can provide advice or guidance the company can help with all aspects of setting up beekeeping within an organisation.
The future
The Artisan Honey Company has grown from strength to strength over the last decade and it is Simon and Caroline's dedication has made it a huge success. In the future they are hoping to expand the range of honeys, providing special honeys to customers across the world.  
The skills and expertise that Simon has gained is something he can share with others. The beekeeping school has a growing range of courses to raise awareness and provide education. The provision of other topics will grow in response to customer requirements, including broadening his audience to include the corporate sector in the future.
For further information contact via:
Website: www.theartisanhoneycompany.co.uk
Phone: 07730 474566