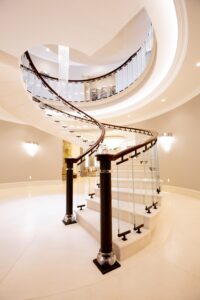 Guild of Master Craftsmen member, TaylorHood Metalworks, is an independent metalwork engineering business based in Washington, Tyne & Wear. The company offers a broad range of commercial and domestic metalwork services throughout the UK and for international customers. This includes architectural metalwork, artistic and functional pieces and all metal-based shopfitting installations.
The growth of the company
Director Chris Taylor started the company in October 2010, just after the great recession, confident of carrying out bespoke projects in the centre and outskirts of London and other major cities. Over the years the company has grown quickly, and has developed a good reputation for its high quality work and products.
Early success and the increased demand for work led to new metalworker positions being created at the company. The new workers also undertook in-house training to bring their skillsets up to the standards required for working at TaylorHood.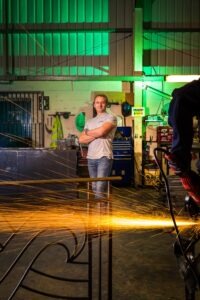 Chris also approached the training centre where he first found his love of metalwork and an apprenticeship scheme was set up for training purposes. This apprenticeship scheme remains in place today – so keeping metalwork training and skills alive for the next generation.
Over the years Chris has built up a very trustworthy, highly skilled and well-respected workforce – who also love a challenge. Chris's team normally includes ten metalworking colleagues assisted by at least two apprentices. Today, with over 20 years' experience in the metalwork trade, the company has worked alongside top architects for blue chip companies and a number of famous faces.
Quality work
TaylorHood manufactures high quality bespoke architectural metalwork specialising in bespoke staircases, architectural balustrades and feature metalwork. From simple walkways and handrails through to highly demanding artistic sculptures their work shows exceptional skill and craftsmanship. The main materials used for construction in the workshop include brass, steel, glass and copper.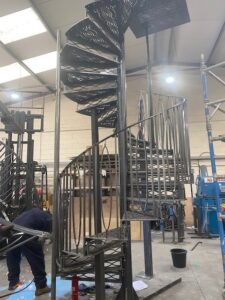 Although they can manage a project independently, TaylorHood can also work together with architects and designers to create work to meet the customer's exact requirements. They approach every project with confidence and creativity to make sure that their customers receive products of the highest quality and a highly personalised measure of service.
Whether a customer is seeking metalworks in classical or contemporary style or something completely different TaylorHood can turn a customer's ideas into designs that appeal to all tastes, while supplying samples to the customer for discussion and approval. As a result many creative and diverse pieces have been created for a broad spectrum of customers.
TaylorHood's customers come from both domestic and commercial settings, including hotels and restaurants, casinos, offices and banks. The company also supplies to many retail outlets including shops and department stores. Here they can provide bespoke shop displays to fit the style of the store, plus shelving and feature walls as required.
High-profile projects
Some of these projects include film sets for the BBC (including the series The Paradise), ITV Studios, Barclays Bank PLC, London, Genting Casinos in Resorts World, Birmingham and a feature wall at Selfridges in Manchester.
One of the company's recent favourite projects was the striking new entrance for ROKA, the Japanese restaurant in Mayfair, London. Another favourite hotel and restaurant project in London was for Becks Interiors at the luxurious Lanesborough Hotel in Knightsbridge.
Some well-known names, including Alesha Dixon, have also had private work carried out for them at home. Alesha Dixon has praised the company on their website for their ease and efficiency in bringing a design idea to life.
The future
TaylorHood has completed many projects around the UK, but was also very proud to have recently installed an attractive staircase balustrade in Guernsey.
The company has now been asked to complete projects at ski resorts at Courchevel in France. This will now form part of next year's programme of work.
With the broadening of its locations for its high quality products and its wealth of experience Chris and his successful metalworking company continue to go from strength to strength.
For further information contact via:
Address: TaylorHood Metalworks Ltd, 2 NEP Business Park, Stratford Road, Washington, Tyne and Wear NE38 8QP
Website: taylorhoodmetalworks.co.uk
Phone: 0191 417 2642
Email: info@taylorhoodmetalworks.co.uk