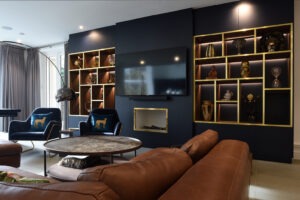 In 2006 the wardrobe company Hanging Space was a small high street shop in Weybridge, Surrey. Not long after, it was bought by the company's Sales Designer, Elaine Palmer. Elaine had been employed by its previous owners before she saw an opportunity to take over and improve the business.
Elaine has a wealth of experience in the design industry. Starting her career in commercial and couture fashion, she learned all about fabrics and colour. Eventually, this led her to designing soft furnishings and upholstery in her own interior business. 
Today Space has evolved into a well-respected, contemporary, luxury interiors brand specialising in beautiful bespoke furniture, joinery and soft furnishings. It is aimed at customers who are seeking exceptional design, service and quality, including upmarket home owners and property developers in the Surrey area.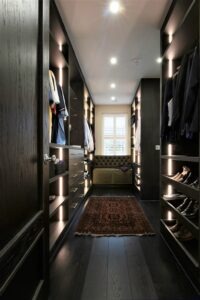 Space has also become a more creative and client-caring business, offering more attention to detail, better products, service and quality. Elaine is well respected in the industry for her professionalism, and reputation for maintaining a unique blend of creativity and practicality.
Bespoke solutions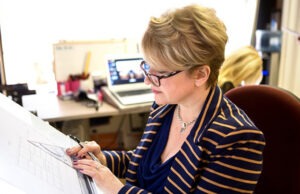 Space offers some fabulous bespoke solutions for rooms and spaces. These include stylish options for living spaces, bedrooms, libraries, studies, wine storage, bars, cinema rooms, dressing rooms, attics,
The team at Space work closely with their clients from the outset – from conceiving design ideas to project management and bespoke production. They provide full installation, including soft furnishings and finishing touches.
The goal has always been to offer high quality, design focused and beautifully made furniture for every client. Space offers the level of bespoke detail, finish, and quality that some of their competitors simply can't. They are offering something that is unique.
The projects
Space has designed and produced furniture for some of the best properties in Surrey and South-west London. And it's not only furniture on offer; Elaine is often asked to conduct a full interior design service. Drawing from her years of expertise, Elaine can bring refreshingly beautiful flair to areas in clear need of revitalisation.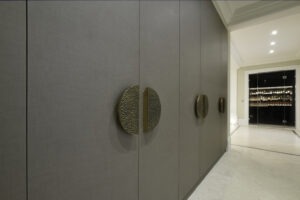 The process is relatively simple: The first step is where Space invites the client to the showroom for an initial consultation to discuss the project, comes up with ideas and looks at possible finishes. Once Space understands what the client needs, they can begin the process of creating that vision. An initial quotation is the next step, which gives a clear idea of the costs involved. Should the client wish to proceed, they then move on to the home measure and design stage. The design stage is where the fun really begins, using V-Ray CAD software their in-house designers can produce incredible photo realistic representations of their furniture, so bringing the whole room to life. Once happy with the final design with an installation booked then they're ready to go.
The journey forward
With Space, customers experience high quality products with excellent workmanship and fitting and a professional and friendly service. Word of mouth has always proven to be one of the company's best forms of marketing. Most of their work comes from clients who are eager to recommend Space to their friends and associates. In the longer term, the company are developing strategies to grow the brand and gain more potential clients.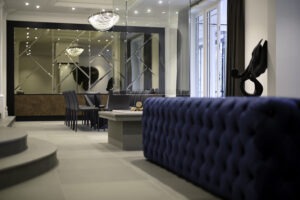 They are also actively keeping up to date with new products and finishes, and adapting their services to best suit their customers. They are also opening an online store where people will have the opportunity to buy a range of ready-made products including soft furnishings.
Now with premises in Byfleet, the company has expanded their showroom space in order to facilitate the growing soft furnishing side of their business.
Elaine explains, 'We are always improving our ranges and looking for exciting new finishes and fabrics to offer our clients. With a new fabric and soft furnishing room as part of our existing showroom, clients can now comfortably choose from an extensive selection of fantastic new fabrics to help complete their dream home.
'The world of interiors has never been so exciting!' Elaine confirms. 'Even during the pandemic with all the complications that came with Covid our adventure has been extraordinary; we've come on a tremendous journey thanks to our great team and amazing clients who have really helped us grow from a small niche business into a growing luxury brand! We've adapted well, learned a great deal, and this is just the start.'
It is clear that Space is on a very successful journey in creating its innovative and stylish brand.
The Guild is certainly excited to be supporting such a forward thinking brand!
For further information contact via:
Address: Space, No.1 Glen Court, Canada Road, Byfleet, Surrey KT14 7J
Phone: 01932 849 049
Website: hangingspace.com
Email: design@hangingspace.com