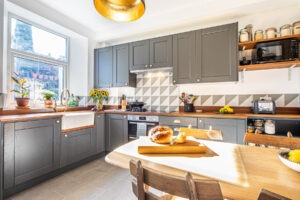 Sheffield Sustainable Kitchens was founded in 2008 by managing director, Rob Cole. Rob wanted to create a company that produced high quality kitchens using a high proportion of recycled materials. From the start the business was built with sustainability and ethics at its core.
Sheffield Sustainable Kitchens designs and fits bespoke sustainable kitchens of exceptional quality that are built to last. All of the designs are put together to meet the individual needs of the customer. Each kitchen will have a combination of high quality fixtures and fittings and eco-friendly raw materials. These include recycled, reclaimed or sustainably sourced materials including local timber.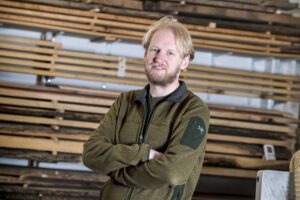 Many of the kitchens have a story to tell, whether it's the solid oak cabinet door fronts that were originally railway wagons, open shelving that were previously school lab benches or worktops made from glass bottle shards set in a solid resin. The company is constantly exploring new and sustainable materials that can be used for building kitchens.
Based in Sheffield, the area covered by Sheffield Sustainable Kitchens includes Derbyshire, Leeds and south-east Manchester but demand is steadily growing and the team will travel further.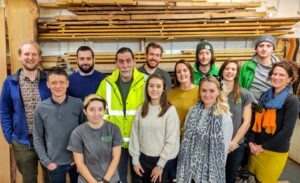 Choosing a bespoke kitchen
Many of Sheffield Sustainable Kitchen's customers have a strong sense of style and design and are looking for a new kitchen built using eco-friendly products. They want a beautiful bespoke living space where they can spend time and entertain family and friends. Sheffield Sustainable Kitchens will also carry out building work as part of the project, or re-jig the space. This often creates highly personalised spaces that flow seamlessly into each other.
Other customers are also looking for a kitchen that better suits their needs and also want to support local business. They will ask the kitchen team to come in and design something that is well-thought through and works for them. The team manage the whole project for them with minimal stress.
The company can also provide fitted bedrooms, bathrooms, home offices, bespoke shelving and other fitted furniture. They work with skilled and experienced tradespeople to provide a full service for clients.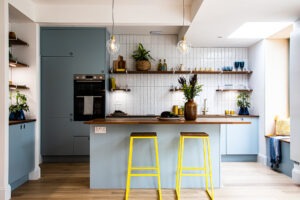 Ugly House to Lovely House
In a recent exciting project the kitchen team worked alongside a couple in Sheffield who were transforming their 1930s semi-detached home. Along with architects Chiles Evans + Care Architects and presenter George Clarke, the home was featured on the TV programme Ugly House to Lovely House on Channel 4. 
The brief was to design and create a beautiful and functional family kitchen, with sustainability at its core. The kitchen team worked closely with Amazing Productions to create a unique and bespoke design, which reflected the sustainable approach they were taking. The kitchen was designed to fit a new extended, flexible living space and be both beautiful and functional.
They transformed the kitchen using reclaimed iroko timber from a school lab for worktops and shelving and a window storage seat. All the kitchen cabinets were made from a special eco-board which is 100% recycled timber. The doors were designed in-house and made in Sheffield. The cabinet doors and drawer fronts were made to order and had low wastage and low transport miles.
The result was fabulous, a sustainable family kitchen. It was not only functional, but looked beautiful. The programme aired at the end of October 2020 and showcased the team's work perfectly.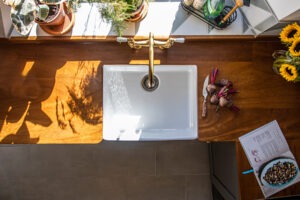 Sustainability and ethics – the core of the business
Sheffield Sustainable Kitchen's approach to sustainability extends much further than the way they craft kitchens. Their ethical business practices ensure socially responsible supply chains and also supports the local economy and other sustainable businesses. They use renewable energy, electric vehicles and recycle wherever possible. They encourage their team to cycle or walk to work.
Accredited by the Living Wage Foundation, Sheffield Sustainable Kitchens have a commitment as a responsible employer. They offer apprenticeships and are actively involved with local students and colleges, providing mentoring and support for training.
In 2018 the company won the award for Excellence in Corporate, Social and Environmental Responsibility at the Sheffield Chamber of Commerce Business Awards. They were finalists for the same award in 2019. They were also nominated by the Yorkshire Post for their Excellence in Business Awards in 2019 and 2020.
Their work also comes highly recommended by their customers, who respect their honesty, professionalism, workmanship, design and customer service – and all who are of course delighted with their new living space!
For further information contact via:
3 Edgedale Road, Sheffield S7 2BQ
Website: www.ssk.uk.com
Tel: 0114 250 9078 
Email: info@ssk.uk.com