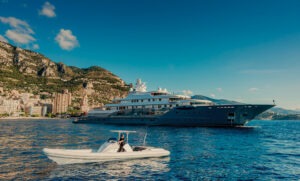 Patrick Byrne was a customer of Scorpion RIBs before he acquired the company in 2008. 'I first bought a Scorpion in 1999 to buzz around Chichester Harbour and pop over to the Isle of Wight,' he explains, 'but by the end of the first month, I'd done 2000 miles. It's different to every other RIB(Rigid Inflatable Boat) I've bought – once you've driven one you don't want to stop.'
After taking the helm of the company, Patrick has driven Scorpion to become a powerhouse for superyacht tender, chase boats and leisure RIB builds. Suitable for yachts under 70m that require a chase boat towed behind, the renowned stability of a Scorpion is especially effective in high seas – the owner can be sure the RIB won't damage the yacht's hull.
Background and experience
Founded 20 years ago in the UK (where the rigid inflatable boat was invented and developed) Scorpion redefined the market in 1995 by devising a deep V hull specifically for a RIB. The result was a supremely smooth and safe ride, even in rough seas and at great speed. Scorpions have since broken several international racing records and challenged traditional RIB stability tests. 'The Silurian 1080 is stable beyond 90 degrees,' says Patrick, 'which is off the charts.'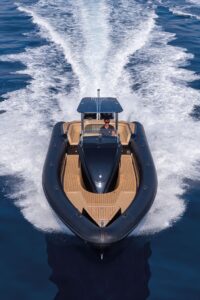 Kevin Hunt, Scorpion RIBs Managing Director since 2018, began working for Scorpion RIBs as Production Director in 2009. He comes from a strong marine industry background with more than 31 years of boatbuilding experience. He began his career as an apprentice with the Maritime Workshop and is a member of the Worshipful Company of Shipwrights.
Every Scorpion is hand built to the precise requirements of its owner in the factory in Lymington, UK. All aspects of the boat's design, styling, moulding and assembly is done by Scorpion's specialist in-house teams, including the manufacture of the tubes and installation of the engine. Total control over design and build provides infinite opportunities for customisation. 
Prestigious partnerships
The company's reputation for reliability, build quality and fuel efficiency has secured its presence in the world of professional sailing. This includes a prestigious partnership with Land Rover, Ben Ainslie Racing (including supporting the team in the 2015 America's Cup), and a commission from Oracle Team USA for a custom-built chase boat for the 2016 Louis Vuitton America's Cup World Series. Most recently Scorpion became Technical Partners with the 52 SUPER SERIES – with the Scorpion Serket 98 as the official media RIB.
Passion for boatbuilding
The Scorpion's class-leading capabilities come from the unique Scorpion hull design. Over 20 years of coastal cruising and ocean passages has proved that it delivers a soft, comfortable and safe ride with outstanding performance and fuel efficiency. The Scorpion is regarded by many as the best handling boat they have ever experienced.
Scorpion's unrivalled capabilities provide the driest, safest and most stable ride of any RIB in the world. That promise of freedom combined with safety makes Scorpion the first choice for creating memorable experiences with family and friends.
The Scorpion range
The three models in the current Scorpion range vary in their overall beam; the Serket at 2.75m, the Sting at 3.1m and the Silurian at 3.25m. They are available with a range of power options, including inboard, outboard and waterjet. Additionally, the Sting is available with a cabin option as well as open cockpit. These handcrafted models span from 8.8m to 11m in length, but the dedicated facility in Lymington can custom build to an owner's specifications. 'We can coordinate seating and colours to the yacht and add anything from sound systems and water atomizers, to ice boxes and fly rod holders,' Patrick explains, 'We even have an option of an opening nose with carbon steps so you can run on to the beach.'
Looking to the future
At the heart of Scorpion RIBs is a passion for sustainability. One of the most recent 2020 RIBs built was a Serket 90ST, which was designed originally in 2011 as a fuel-efficient boat. The Serket 90ST has the first cork deck built on a RIB in the UK. Cork is light, cool underfoot, sustainably  sourced and non-slip – even when wet. This is Scorpion quality and performance without excessive consumption of resources.
Superb design, meticulous craftsmanship, the best materials and exceptional build quality – including innovative production techniques that increase strength and reduce weight – has made Scorpions what they are today.
A Guild member keeping British boatbuilding alive!
For further information contact via:
Website: www.scorpionribs.com
Tel: 01590 677080
Email: info@scorpionribs.com