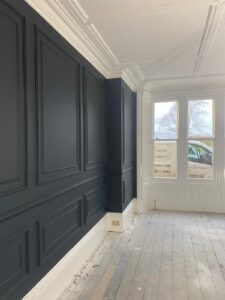 James Reeve starting his career in decorating at the age of 16, completing a City & Guilds apprenticeship and founding Royal Spa Decoration in 2012. The firm was made up of a number of highly skilled individuals who had already worked together for a number of years. After a short period of time the business grew, becoming a member of The Guild of Master Craftsmen in 2015 and finally a limited company in 2016.
Today Royal Spa Decoration is a well-established painting and decorating firm taking on advanced residential works and development projects. With a niche in unique and innovative residential painting and decorating solutions, the business consistently delivers quality results. The work undertaken by Royal Spa Decoration extends throughout Leamington Spa and Warwickshire, providing a wide range of painting and decorating services.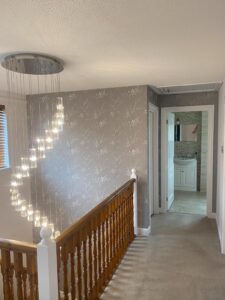 Indoor and outdoor work
Royal Spa Decoration covers all areas of decorating – their indoor work includes painting, paint spraying, decorative paint finishes, wallpapering and installation of coving. They frequently work on both intricate high-end new builds and developments as well as restoration projects. They can provide everything from wallpapering and protective coating applications to floor painting and restorations – so helping to create an interior space customers can be proud of.
The Royal Spa painters and decorators also take on exterior work; this includes decorating, paint stripping, protective coatings, metal painting, wood restoration, staining and decking as well as stain covering services. They know how to work effectively with different materials, ensuring that every customer's painting or decorating job looks its very best on completion.
Building a reputation
The enviable reputation that they have built up over time has been achieved by delivering a high quality product. The company has always put the customer first and aims to deliver above and beyond what is expected. Over the years they have been involved in some truly outstanding projects and have worked everywhere from a small domestic setting to works of a much larger, commercial scale.
Recent projects in 2020 have included a period property in Kenilworth and a country property in Lapworth that included a games room, library and cinema. Royal Spa Decoration has also been working on the interiors of Ettington Hall, a Jacobean manor house near Stratford-upon-Avon; a job that has included the renovation of the beautiful panel-walled dining room to its former glory.
Royal Spa Decoration pride themselves on being on time, courteous, completing a job to a high standard and leaving the job clean and tidy and with a satisfied customer. Reviewers of the company have no hesitation in recommending their services. Indeed RSD were also voted as winners in the Corporate Livewire Central England Prestige Awards in 2020/21 which recognise small and medium-sized businesses that have proven the best in their field.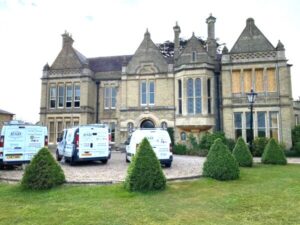 The future
Since 2017 Royal Spa Decoration has invested in a number of new vehicles and took on two apprentices in 2019. Despite any interruptions caused by Covid-19 pandemic in 2020 the company has a positive view for the future and insists 'the show must go on'.
The plans for the future are to continue to grow at a steady rate, but also keeping in mind that 'bigger isn't always better' and without compromising the high quality finish that has given them the strong reputation they have today.
From simple wall painting to extensive restorations and renovations, Royal Spa Decoration does first class work on projects of all sizes and complexities and has the expertise and skill to create the most beautiful finished results.
For further information contact via:
Royal Spa Decoration, Chandos Business Centre, 87 Warwick St, Leamington Spa, Warwickshire CV32 4RJ
Website: www.royalspadecoration.com
Tel: 01926 658 913 / 07787 156 766 (mobile)
Email: royalspadecoration@hotmail.co.uk