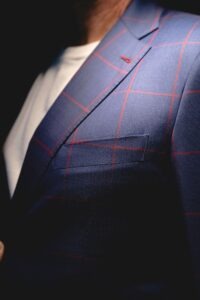 Guild member Richard George started his own tailoring company in March 2019. However the inception of his business, Richard George Tailoring, began many years earlier. At just 17 years of age, Richard began working in a tailor's workshop in Birmingham where he learned all of the intricacies of producing fine bespoke clothing. In 2009 this led him to the 'golden mile' of tailoring – Savile Row in London. Working under a master tailor, he gained invaluable knowledge and experience of traditional British techniques in luxury tailoring.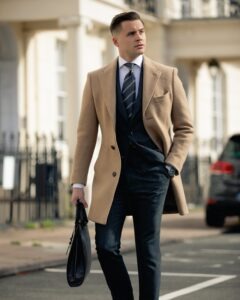 Richard returned to the Midlands to work as a head tailor, furthering his experience of bespoke design and aesthetics and creating close working relationships with his clients. He has since been involved with many different projects ranging from menswear fashion shows at London fashion week to collaborative projects between tailoring companies and luxury car manufacturers, designing full collections and working closely with celebrities and successful business people.
Richard's experience has turned him into the talented tailor he is today – skilled, passionate and proud to serve. His business, Richard George Tailoring, is a bespoke tailoring service with sartorial elegance at its heart.
A personal service
Richard understands that clients want to wear fine pieces of clothing, to feel their best and to be the best. They believe it is important to work directly with customers and deliver a highly personal tailoring experience.
The key to successful tailoring is a real understanding of an individual – their likes and dislikes – in order for the company to guide that person through the vast number of fabric and designs available. This is not only important from an aesthetic point of view but from a practical one too. The garments are made to last and it is important to understand how individuals wear their clothes so they can be guided them appropriately to fabrics and designs that will suit their purpose.
The heart of the company
Richard firmly believes that create a feeling and emotion in their clients is the most important part of their work. Tailoring is seen as a by-product of what the company aims to do. He believes the misconception had by most is that 'who you are' and 'what you wear' are separate. In fact, he says, 'what you are and what you wear are intertwined; the two share a soul and in turn breathe life into each other.' Richard believes it's not enough just to put this into words – it has to be experienced too.
This is at the heart of what Richard George Tailoring is all about – the emotion and feeling the beautifully made garments give the clients. When a customer commissions a piece from Richard George, they are invited to share the elation created as a result of producing a piece of tailoring made specially for them that looks and fits perfectly.
The home of the business
Richard George Tailoring is based at Dallas Burston Polo Club in Southam in the Warwickshire countryside. This vast estate is beautiful and a pleasure to visit; it is a place where customers can come and view the collections in person. Having an appointment for a new outfit is an experience in itself that is relaxing and enjoyable for the customer. Usually a client of Richard George Tailoring is somebody who appreciates quality and wants to look good. This could be either somebody who has worn quality garments all their life or someone who is new to fine tailoring and wants to explore what is on offer.
Clients receive a very good service, care and attention from the company, who encourage their freedom of expression. This inspires and helps the client to make their final choices. The majority of customers are men, but the company is also building a loyal female following the introduction of womenswear.
The company revolves around creating beautifully constructed garments and accessories which are made in the workshop by artisans. They use the finest fabrics and materials available from Italy and the UK. The range of items available spans from casual wear through to very formal wear and everything in-between. This includes men's and women's jackets, suits, coats, bespoke luggage, bespoke footwear, handmade ties, bespoke shirts, casual sneakers, scarves, belts and individual unique bespoke commissions.
Business outlook
One goal for Richard's business is to open a further two showrooms in the next two years. These would be in similar settings to Southam so retaining the same ethos, allowing those who live further afield to enjoy what they can offer.
Today made-to-measure tailoring is available, part of the ready-to-wear collection available to buy online. The collection encompasses the aesthetic, feel and quality of what is always to be expected from Richard George Tailoring. Any suit carrying the Richard George label is a garment of fine quality and true craftsmanship.
For further information contact via:
Address: Dallas Burston Polo Club, Golden Jubilee, Southam, Warwickshire CV47 2DL
Email: hello@richardgeorge.uk
Tel: 01926 695206