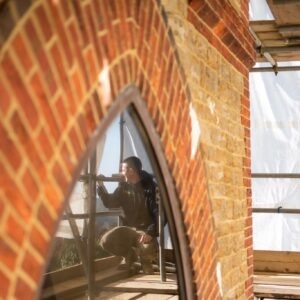 Pro Era Construction Ltd are a small brickwork contractor with a close eye for detail and a wide knowledge of all areas of brickwork. Located in Aldershot & Farnham, Pro Era Construction carry out brickwork mainly throughout Surrey, Hampshire and Berkshire.
As professional bricklayers Pro Era concentrates mainly on external restoration including brick laying, repointing, brick repairs, brick and stone cleaning and covering removal, restoration and general building projects. They also work on chimney stacks, walling and arches as well as listed buildings and works overseen by English Heritage.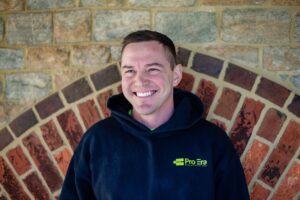 Director Adam Jeremy set up Pro Era Construction in 2015. With a solid team behind him, Adam's business today is going from strength to strength. Starting his career in bricklaying, first as a labourer before earning his apprenticeship. He then worked for 10 years for a company on high-end restoration and building projects. Working with some of the most experienced craftsmen in the country he has gained a vast amount of knowledge and experience in the process.
Heritage work
In setting up his own company Adam wanted to further explore his passion for heritage work and brickwork restoration. This is something that he has achieved, Adam and his team have worked on a number of homes and properties of historic interest.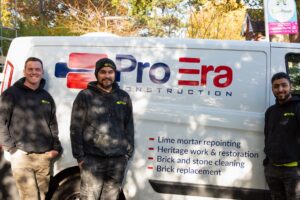 Often problems with older properties are caused by adding paintwork or laying rendering over brickwork. This can suffocate the brickwork behind and so trapping dampness and moisture inside. Pro Era Construction remove renders and paint from Edwardian, Georgian and Victorian properties, bringing them back to their former glory and allowing them to breathe again. They can match and replace any damaged bricks behind and repoint with a natural hydraulic lime (NHL) mortar to truly transform a property.
Pro Era Construction has built up a reputation in restoring listed homes and properties, working with leading heritage consultants and local conservation officers. They offer their customers an unrivalled service mixing both practical knowledge and experience with a full understanding of the theory behind all aspects of brickwork restoration.
They have a vast portfolio of the properties that they have lovingly restored and have a genuine passion for restoration. They take great pride in working on buildings with history and character, especially ones that have been part of the landscape for hundreds of years. They believe that making their mark on that history is worth every bit of hard work they put into it.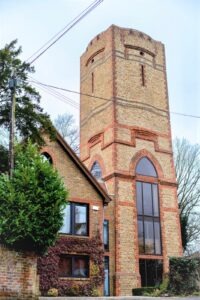 The Godalming water tower
One recent project they are particularly proud of is repointing work on the water tower in Godalming, which was first opened by the Earl of Middleton in 1800. Holding 28,000 gallons of water in its tower and close to an adjoining reservoir and a 60-foot well, it carried a water supply through 32 miles of pipeline to the outlying areas of Frith Hill, Hurtmore and Shackleford for over a century. The tower became a Grade II listed building before it was sold by the Godalming & Farncombe Water Company in 1985. Converted into a habitable space with renovations inside and out, the tower has panoramic views of the surrounding Surrey countryside.
The problem was the building needed attention as it had suffered long-term damage due to the use of a cement-based mortar in the walls over 50 years ago. Pro Era Construction recently undertook the remedial work, repointing the building over a period of 10 weeks using a replacement NHL mortar in the brick and stonework. This allows the property to breathe, move and avoids moisture getting trapped inside. Pro Era Construction have successfully covered an area of approximately 650 square metres inside and out and the work on this splendid tower is now complete.
The future
The company's aim for 2022 is to focus on repointing historical buildings and increase the amount of repointing work they do to around 2,500 square metres over the year. They are also looking for unique projects like the water tower to increase the diversity of their portfolio. Ideally this would be a church, a Royal property or other important historical buildings.
Given the company's strong and successful track record there is no doubt that they will succeed in undertaking on more heritage work and succeed in becoming one of the top restoration companies in the UK.
For further information contact via:
Website: proera.co.uk
Phone: 07720 380363
Email: adam@proera.co.uk