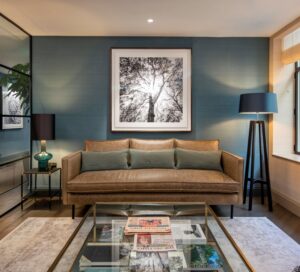 Paint the Town Green is London's first environmentally friendly decorating service and was set up as a very different type of service for painting and decorating.
When it opened in 2007 it was described as a 'firm which defines a new species of tradesperson' because of its innovative eco-friendly approach.
Starting out
Its founder is Phil Robinson, a former musician who has toured the world with some well-known bands. In between performing gigs Phil worked as a decorator (and with Sarah Beeny at one point) and made the decision to launch Paint the Town Green after his first child was born.
The aim of Paint the Town Green was to create a decorating firm with green ethics. Phil realised that there were few products available that were free from toxic paint fumes, so he launched his own eco-product range for the company that were odourless and non-toxic.
Phil's range is small compared with many brands but he knew that some clients can be overwhelmed by too much choice. When he opened his colour showroom in Wandsworth in 2016, he decided to reduce his colour chart by including only the most popular shades.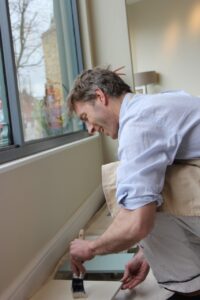 The paints he produces are now in 42 colours and available in three interior finishes: matt, wipeable and eggshell. The flow, opacity and finish are all perfect. And they are fun too – all the paints are named after songs! A paint may be called Fade to Grey, Wonderful World or Dark Side of the Moon.
This collection also includes an exclusive range by celebrated designer Nicky Haslam. Inspired by gemstones and minerals, Nicky's first ever paint colour collection was made up of a six-colour palette of subtle tones with names such as Tiger's Eye, Agate and Feldspar. The whole collection was called The Stones.
Paint the town
Paint the Town Green provides its services around London, Hampshire and Surrey – including interior decorating, which includes wallpaper hanging (they are experts in this field too) and exterior decorating.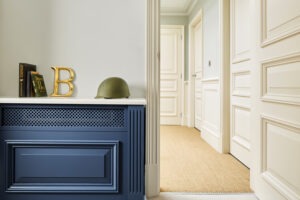 Phil is involved in all day-to-day aspects of the company. He visits clients in their homes for colour consultations and is always ready to offer general advice. He is very much in tune with his customer's needs and works tirelessly to constantly improve the services the company can provide. 
When it comes to decorating, Phil and the team know that detail is paramount. They always ensure that enough time is allowed for, in their costs, to prepare surfaces thoroughly before any paint is applied so a high standard of finish is achieved.
Before work begins, customers understand exactly what will be happening during the project, which is supervised by a client liaison manager. They will also run through the schedule and logistics, aiming to make decorating a home as stress-free as possible.
Paint the Town Green has also painted the outside of hundreds of homes. Although their own paint range is a choice only for interiors, they use suitable paints and fillers for exterior work to ensure longevity delivering the same high standards as for interior work.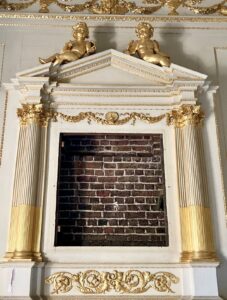 Cultural heritage
In addition to homes and commercial properties Paint the Town Green has involved in conservation projects and heritage work.
St Paul's Cathedral is one example where Paint the Town Green were involved in painting the library. St Paul's Cathedral library dates back to 1709 and has been undergoing a landmark Conservation Project. The aim of the project is to improve the environmental conditions for the books, conserve the fabric of the room and provide improved reader facilities. Phil and his team were proud and excited to be part of that important conservation work.
New conservation work at Marble Hill House in Twickenham began in November 2020. This will be a long-term project as the company are dealing with both the exterior and interior of the villa and need to preserve as much of the original wallpaper as possible. They look forward to the challenge and will carry this out with typical skill and enthusiasm.
Success story
Phil says they judge the success of a project on the 3Cs – creativity, craftsmanship and communication. These elements seem to come together for every task this company take on – providing a top quality, beautifully finished project they can be proud of.
For further information contact via:
Showroom: 9a&b Allfarthing Lane, London SW18 2AP
Website: paintthetowngreen.co.uk
Tel: 020 8871 0531
Email: hello@paintthetowngreen.co.uk