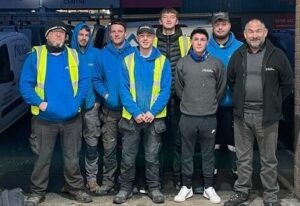 The family-run business Old Plean Roofing Ltd was founded by husband-and-wife team Mark and Fiona Thornton. Before setting up the business in January 2019 they had spent several years successfully running a company that provided technical advice on roofing to construction businesses.
Prior to this Mark worked in the building industry for many years, starting his interest at the age of 11 when he first helped out with his father's firm at weekends and in the school holidays. In 1986 he started out as a labourer in a large roofing firm and progressed through to the role of Construction Manager. In the mid-2000s, he worked in technical roles for several well-known construction companies, but was always keen to have his own roofing firm.
The business
Starting Old Plean Roofing was a natural progression for Mark after many years of experience in the roofing industry. Based in Stirling, the business originally operated out of Mark and Fiona's home in Plean before rapid growth led to relocation in a large unit at Stirling's Springkerse Business Park. Fiona manages the office based activities, including dealing with clients and tendering work. Her background is in counselling and therapy – and she brings this valuable experience to the workplace. In fact everyone who is part of Old Plean Roofing is treated as one of the family, including Mark and Fiona's two dogs, who provide a friendly welcome to staff and visiting customers.
Old Plean Roofing currently employs a number of roofing professionals, has six vans on the road, and new office staff have recently joined the growing business. 
The projects
Over the last four years, the company has carried out a wide range of roofing projects in Stirling and the surrounding areas, including the Thistles Shopping Centre in the city as well as projects in Glasgow, Dundee and Edinburgh. Old Plean has also completed works in Largs, Dumfries and more recently work in Elgin. They specialise in flat and pitched roofing and take on a whole range of projects for commercial and domestic clients including roof surveys, rebuilds, maintenance and repair contracts as well as conservation work.
The company works closely with all their clients and most jobs run smoothly and finish on time. However, some factors are outside of their control and problems will inevitably arise – whether they are disruptions caused by the Scottish weather or difficulty in getting materials to site. Mark and Fiona know that communication is the key to the relationship and the company keep their clients closely informed throughout the project process. They aim to deliver their promises with perfect timing, wherever possible.
Training and standards
Mark is passionate about raising standards in roofing and seeing roofers trained and upskilled. Like many industries it can be difficult to attract and recruit suitable workers. Mark feels that incentives and training are the way forward, and he offers their staff training and promotes roofing positively as a worthwhile trade and career. The staff are continually complimented by customers for their knowledge, expertise and for being extremely polite on site. Mark also took on two youngsters as part of the government's Kickstart scheme and was so impressed with their attitude and appetite to learn about the industry he was able to offer one of the lucky individuals a full-time roofing apprenticeship! 
Mark and his team aim to achieve the highest possible standards for their industry and the highest compliance for health and safety. They offer a reliable and transparent service and aim to become the roofing builder and maintenance contractor of choice in central Scotland. In the future they also plan to expand their maintenance and repairs division and offer new services.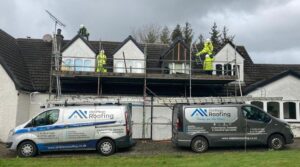 The company is a CHAS-Premium accredited contractor and a member of various trade organisations including the NFRC, the UK's largest roofing trade association. The business is also approved by Trading Standards via its Buy with Confidence initiative. They also became members of The Guild of Master Craftsmen at the end of 2020. The team were thrilled to have been awarded this accreditation which reflects the standards they aim for and the high-quality roofing and service they offer customers. In addition, Old Plean Roofing was named Small Business of the Year at the Scottish SME Business Awards 2022. This was voted for by the public and the awards recognised the businesses that pushed the boundaries of innovation in their field.
The future
Old Plean Roofing has ambitions of launching new divisions within the next five years and would like to open additional premises elsewhere. Mark and Fiona also know they will face some challenges in the future – particularly in the labour market, so they will aim to take on new people and invest in training their new staff.
It is likely that the UK will face a recession in the coming months which could be a cause for concern, though the company remain optimistic about the future. People continue to need roofers and contractors and Mark and Fiona remain extremely busy with plenty of new enquiries. With their solid background and forward looking ideas, the Guild wish the Old Plean roofing team every success for the future.
For further information contact via:
Old Plean Roofing, Unit 13, 9 Munro Road Springkerse Industrial Estate, Stirling FK7 7XQ
Website: oldpleanroofing.co.uk
Phone:  01786 811033 / 07703 640229
Email: info@oldpleanroofing.co.uk