Nalbinding specialist, and Guild member, Emma 'Bruni' Boast is an archaeologist from York who specialises in the Viking Age. Emma is passionate about the historical technique of nalbinding, an early form of Viking Age single-needle knitting. Nalbinding is used to create garments such as hats, socks and gloves. Nidavellnir is Emma's heritage craft shop selling her hand-crafted items online and in-person at heritage events and local craft fairs.
Emma first learnt of Nalbinding as an ancient fibre craft when she studied Viking Age Archaeology. Learning about the nalbound Viking-Age 'coppergate sock' found in York, Emma was instantly fascinated and decided to learn more. She started to research more about the archaeological evidence for this craft in Scandinavia and further afield. That research and craft journey started over 15 years ago and led her to York where she currently lives and runs her heritage craft shop.
In 2012, Emma had just finished her MA in Medieval Archaeology with the University of York, specialising in Viking-age burial culture and Viking-age crafts. She was also working in Heritage Tourism at the Jorvik Viking Centre in York and wanted to try and find a way to combine her practical love of heritage crafts skills and academic background in archaeology with her passion for nalbinding.
Nalbinding technique
Nalbinding is an ancient fibre craft undertaken by many different cultures around the world. Traditionally the craftsman uses one single needle and long lengths of yarn to create individual stitches, one at a time, to build up the final textile. The craft is time consuming and requires a high level of skill to be able to accurately shape and form items of clothing. Fortunately there are still some preserved items in museum collections to learn from today and provide inspiration.
Emma has run her nalbinding Etsy shop Nidavellnir for many years now whilst also being an active commercial archaeologist in the UK. The training she has undertaken and the refining of her archaeological and craft skills means that she is now part of the wider crafting community and is the UK's leading nalbinding specialist. Her gorgeous textiles are not only practical items of clothing; they are pieces of work created by a master craftsman too.
Nalbound clothing is often bought by historical reenactors and the museum sector. They are used for display or education, such as handcrafted nalbound hats and mittens made for the British Museum and for the Viking Ship Museum in Roskilda, Denmark. Emma has attended historical festivals such as the Jorvik Viking Festival since 2018, showcasing her nalbound hats, sock and mittens. These items are all unique and have also become very popular as gifts in recent years.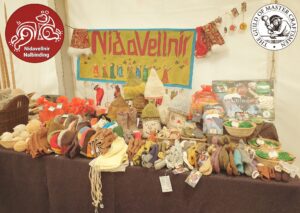 Projects and resources
Being an archaeologist that specialises in Viking-Age Heritage Crafts, means that Emma has been involved in many unique and interesting projects. One of the most notable was working with the BBC as a historical advisor for the CBeebies series 'Gudrun: The Viking Princess'. Emma assisted with the historical aesthetic they were after, the historical clothing of the actors and the archaeological research they needed to be able to build their own narrative with the series.
Emma has developed her own educational resources to help promote and teach people wanting to learn nalbinding as a Heritage Craft in the UK. In 2018, she developed the first professional 'Nalbinding for Beginners Starter Kit' and self-published book (and digital eBook) to help make the craft more accessible to the public. This has been well received and has created interest in the craft. There are also a few YouTube videos and lectures and a virtual workshop. Emma also often teaches practical workshops in-person.
Promoting the craft
In 2018, Emma submitted an application to the Heritage Craft Association (HCA) to advocate getting nalbinding put on their Red List of Endangered Crafts. Based on the assessment and survey Emma carried out, it was found that there were very few professional nalbinders in the UK. Emma was very proud that nalbinding was added to the HCA Red List and she continues to work with the HCA in the UK to promote nalbinding as an endangered craft.
Most recently in July 2022, Emma branched out into digital art design to further help promote nalbinding. Emma now has a Redbubble Artist Shop where people can buy modern merchandise decorated with her art and designs. Being able to adapt and evolve as an independent craftsperson, especially over the last few years, means finding new sources of income and projects to work on as this is at present a full time job. It continues to be challenging, but Emma is confident of her long-term success.
Getting involved
Nalbinding has an important and fascinating history all around the world and Emma is proud to be part of that story too. She has traditionally used Facebook and Instagram to promote her work with Viking age reenactors and those interested in history and archaeology with publicly accessible articles based on her research. With the current broader public interest in Heritage Crafts in general, Emma is now making the craft as accessible as possible for a wider audience.
Emma is always looking to collaborate with different archaeology and Heritage projects and loves meeting new professionals and working on unique projects. She would like to bring the public and professional world closer in all aspects of heritage and archaeology. She is incredibly passionate about keeping the craft of nalbinding in the public eye and her dedication to the craft over the years has inspired others to learn more about this little-known but fascinating craft.
For further information contact via:
Website: nidavellnirnalbinding.com