The Classic Barn Company is an established, family run business building and supplying oak framed garages and outbuildings across the UK. The company was formed in Hampshire, the home of the New Forest. The company's Director, Andrew Guppy, has been involved in the oak framing industry for over 20 years; and his experience and energy can be seen throughout the organisation.
The oak framed buildings Andrew and his team create clearly reflect the company ethos; "To create a beautiful, detailed, oak framed barn that reflects genuine quality throughout its design". The company uses traditional techniques in every build, such as mortice-and-tenon joints. The oak posts and beams are generously cut from sustainable oak timber, so not only do they create a stable building they also look extremely impressive once in situ.
Each frame that is installed by The Classic Barn Company is well thought out, and demonstrates a commitment to exceptional craftsmanship. With a huge range of garages and barns to choose from you won't be short on choice and if you can't find exactly what you're looking for, the team will work with you to create a bespoke building to meet your requirements.
The Classic Barn Company offers a fully managed service, giving their customers the peace of mind that the quality throughout the project will be of a very high standard. They will even go so far as to handling your planning applications with your local planning office, should one be required for your build. It is this level of service which has enabled them to maintain their accreditation to The Guild of Master Craftsmen.
Not only do The Classic Barn Company offer the full service – they also offer a frame only service – perfect for those who live further afield from one of their local offices or those who have access to all the trades they need to complete the build.
Andrew and his team also work with developers, architects and project managers to supply their traditional oak frames as part of larger builds and projects.
At present The Classic Barn Company operate primarily from their three office locations; Hampshire, Gloucestershire and Sussex, however they do serve the whole of the UK.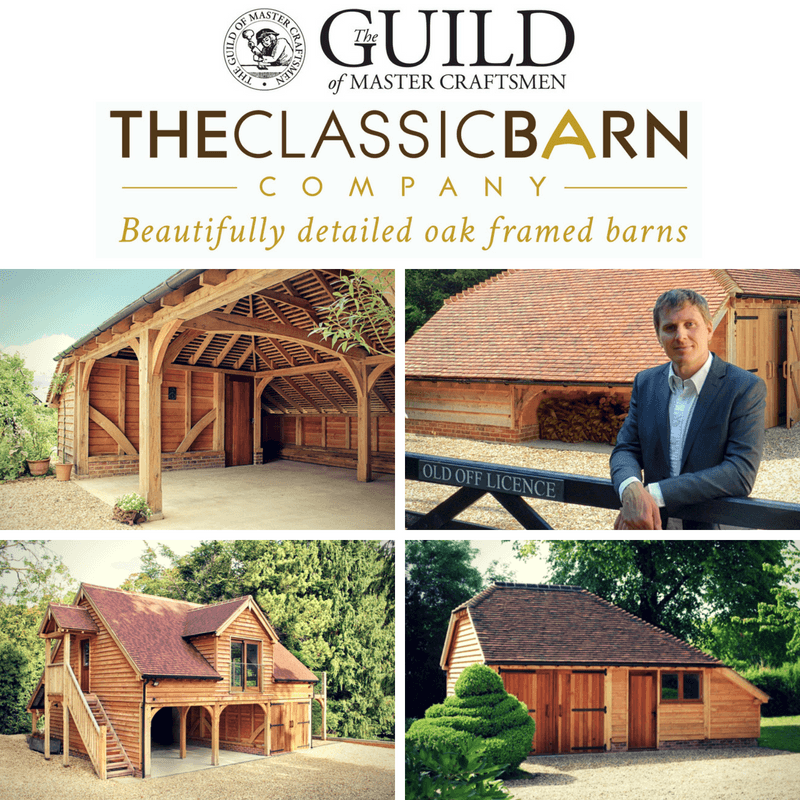 To find out more contact The Classic Barn Company using the details below:
Website: https://www.oakgarages.com/our-company
Telephone: 0844 800 0708
Or visit their Findacraftsman page to see more of their work and to contact them directly: https://www.findacraftsman.com/listing/classic-barn-company