Established in 2017, Stout Duck is a design and creative partnership between Matt Duckworth and Rose Stout. From their workshop and studio in the Yorkshire Dales, Stout Duck are dedicated to designing and creating exquisitely handcrafted contemporary furniture. Combining wood metal and stone, they produce made-to-order limited edition studio pieces as well as bespoke commissions.
Originally a stonemason by trade, Matt spent a number of years abroad before returning to the UK ready for a new challenge. With a workshop on the family farm back in Yorkshire, Matt had always had an interest in woodwork and decided to re-train as a Cabinet maker/designer at The Rowden Atelier, Devon in 2015, where he met Rose.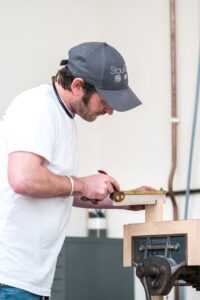 Rose grew up living between London and New Zealand. She has always been fascinated and influenced by the rich Maori culture and art and graduated with a degree in Art and Design from Camberwell School of Arts, London. Coming from a long line of cabinetmakers and boat builders Rose carried on in the family tradition and trained as a bespoke cabinet designer-maker.
After completing their training Matt took the opportunity to work on bespoke commissions for the late David Savage and other renowned designers, while Rose taught short courses at The Rowden Atelier, Devon. 
Matt and Rose both had pieces accepted for the Somerset Guild Furniture awards in 2016. With the Mallard Desk declared the overall winner. A design inspired by the elegant form of Louis XIV furniture. The piece was later exhibited at the Cheltenham Celebration of Craftsmanship and Design, where Matt and Rose exhibited for several years until it closed.
In 2017 Matt was also selected to take part in the prestigious Crafts Council's 2017 Hothouse programme, the Crafts Council's creative and business development scheme. 
The workshop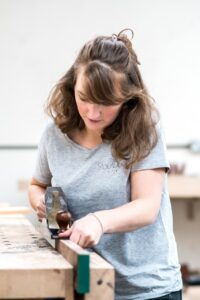 Matt and Rose are dedicated to designing and creating contemporary furniture from their workshop and studio in the Yorkshire Dales for private clients, architects and interior designers.
They are passionate about using locally sourced timbers to make beautifully handcrafted bespoke pieces. It's important for the company to know where their wood comes from and they firmly believe that the history of the tree is part of the story of the finished piece. Stout Duck works with a few small local sawmills who source their timber from managed woodland and trees that are either storm damaged or have come to the end of their growing cycle.
When a customer buys from Stout Duck they are aware the timber has come from a local source, often milled on site, so reducing the carbon footprint. Using local wood sources also allows Stout Duck greater control over the selection of their timber, ensuring that they are able to choose pieces of exactly the grain pattern and colour to match the design of each piece. The Mallard Desk, for example, is made from English walnut, with a drawer made from English pear, an English cherry base and spindlewood detail.
Sustainability is important to the company and they are constantly looking at ways to reduce waste and use eco-friendly products.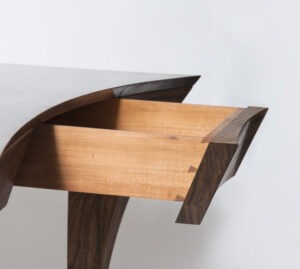 The process
Matt and Rose offer a complete service from concept through design, to completion of bespoke work carried out to an extremely high standard. They work closely with their clients and involve them throughout the whole process, creating a piece that not only satisfies the brief, but hopefully exceeds their expectations.
This journey with the client provides them with a piece that is truly unique and most importantly, personal to them. In turn, Stout Duck have some very satisfied customers who are delighted to have invested in their work and the smooth collaborative process.
The range of work produced by Stout Duck is impressive. Working on both bespoke and limited-range studio pieces their gallery includes beautiful examples of bureaux, book cases, gates, tables and fitted furniture as well as a unique range of mirrors, clocks and boxes.
Looking to the future ­– the sky is the limit for Stout Duck!
Another outstanding member of the Guild family!
For more information contact via:
Address: Stout Duck, Bay Horse Farm, Thorlby, Skipton, North Yorkshire, BD23 3LL
Website: stoutduck.com
Tel: 07398 226771,  07538 063133 
Email: studio@stoutduck.com