Coming from south London, thatching was not a natural career choice for Christopher Smart. At 18 years old he was an architectural model maker working in central London. However after a visit to the Weald and Downland Museum in Singleton, West Sussex he became determined to become a thatcher.
Christopher then completed a five-year thatching apprenticeship as well as a further two years qualifying at Knuston Hall, Northamptonshire before starting out as an apprentice thatcher in Hampshire.
Christopher now has several decades of practical thatching experience behind him and many satisfied clients. He has previously worked in a partnership and as a subcontractor but he is now happy owning his own business, Smart Thatcher.
The smell of the straw and reed and working with his hands is something he loves.
But he also admits that at times thatching can be uncomfortable, painful, tiring and frustrating. He says it's not a job for everyone. His son, after working with him for the day, was asked if he'd like to thatch for a living replied, 'it's not for me!' Christopher however loves thatching – there is no job he would rather do.
The service
Christopher's business is located in Bedfordshire and provides a national and international thatching service. The company maintains an exceptional standard of craftsmanship and attention to detail in the thatching projects he manages. He and his experienced team cover all aspects of thatching, inclusive of a free advisory service for owners of thatched properties.
Smart Thatcher prides itself on a friendly and professional service, using the best materials on the market. These include water reed, combed wheat reed and long straw. In addition to thatch repairs and complete re-thatches the company also undertakes re-ridging, renovations and extensions, new build thatch and conversions to thatch from slate and tile. Summerhouses, Wendy houses and thatched follies are all undertaken too.
There are many reasons for looking after thatch. Having a good standard of thatch on a roof not only keeps the occupants dry, warm and insulated from the weather outside but also adds to the value and potential re-sale value of the property.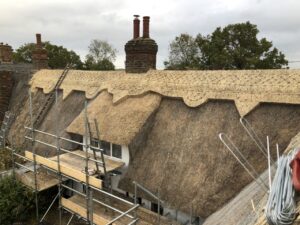 If clients are concerned about timescales, Christopher can give an estimate of how long the repair or re-thatch will take and will aim to meet this schedule unless weather conditions make the job unsafe for working.
Smart Thatcher can also undertake timberwork, chimney sweeping and the application of fire retardants, ensuring that the work is fully compliant with current building regulations. They also liaise with local councils to meet essential conservation standards and undertake written Condition Reports. In addition to a free thatching advice service the company offer no-obligation quotations.
Christopher and his team are a pleasure to deal with, are highly recommended by their customers and are happy to talk to discuss future thatching projects with potential clients.
The Guild is proud to support Christopher within this expert craft!
For further information contact via:
Website: www.smartthatcher.com
Email: smartthatcher@hotmail.co.uk
Tel: 07757 647970