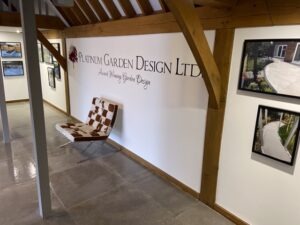 Platinum Garden Design is a leading design and landscaping firm based in Leicestershire. Owned by Lee Fenn, the company is established at a new purpose-built design studio competed in 2020 at Kirby Muxloe.
The company provides a range of high-end garden services for Leicestershire and the Midlands. It specialises in completely transforming outdoor spaces with stylish modern and contemporary garden design.
Having worked for many years in the landscaping industry, Lee and his team are experts in all aspects of the trade and offer customers luxury designs that are both stylish and practical. The designs are one-offs, individually tailored to suit different clients. This may be a full-scale project dealing with all aspects of a garden or an individual design for a specific area.
Lee's team is made up of skilled professionals with different skill sets, who provide a very high standard of workmanship and attention to detail. They aim to meet all the needs of their customers whilst maintaining an open, honest dialogue. Working together on luxury garden designs, every customer receives a completely bespoke service for their garden design.
A garden project
Contemporary design for gardens is stylish, made up of crisp, clean lines, geometric layouts and minimalist details. Equally effective in smaller and larger gardens, modern designs provide calm, relaxing, yet dynamic spaces. For many of Lee's customers this creates a much-needed escape from their busy lifestyles.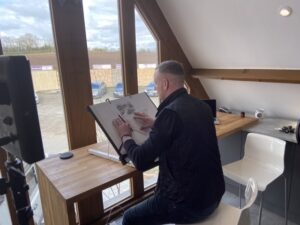 The first stage to successful garden design is a professional consultation. Visiting customers at their home, Lee will discuss with them their objectives for the garden space. The brief follows the customer's ideas, taking on board their ideas for the space and their preferences. He can then begin to craft a completely bespoke design with professional concept drawings and plans and provide a visualisation of the end result.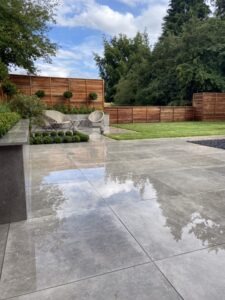 The materials used for creating gardens are generally natural and timeless, and ethically sourced from all over the world. Stone, slate and wood are common choices and smooth surfaces and muted colours are often utilised. Clipped hedges and specimen trees complement this look. Timber architecture and porcelain paving (a 'polished concrete' look) bring different areas together seamlessly and achieve the cleanest possible result.
Whatever the client's tastes, the company can source the most suitable, artisan materials to create an attractive, functional and unique space. In addition, clever
lighting solutions, water features and other bespoke additions allow customers to use their outdoor spaces all year round.
Thoughtful planning and organisation of flowers and shrubs ensures design lines remain linear and clean-cut. Using strong, stylised plants, the design ensures that spaces have a clear structure. The company can advise and supply the most suitable plants that will establish well in any given space.
Parkland garden design
In early 2020 Lee was approached by a couple who had a dream for their stunning parkland garden. The design needed to create an indulgent secondary interlinking outdoor space that could be enjoyed all year round.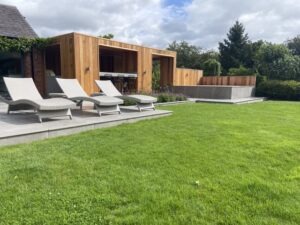 The team set to work and the incredible space now includes a bar, kitchen, wet room, sunken hot tub, large patio and gas fire pit. The worktops were made of quartz. The building was dressed in stunning western red cedar and finished with a sedum living green roof. The large format porcelain paving flowed effortlessly from inside to outside of the home, completed by under floor heating. Rich golden pea resin-bound stone was laid around the exterior of the home.
The result was outstanding. This is the sort of work that Platinum Garden Design is proud to produce.
Leading landscape and design
The company undertakes all aspects of landscaping and garden design and is committed to delivering beautiful diverse and functional gardens. Whether a complete remodel or individual service is required, Lee and his team are experts at enhancing outdoor spaces using contemporary materials.
Committed to delivering the highest standards of service, the company oversees all aspects of projects through from initial design to completion. They ensure their customers receive consistent, reliable and friendly service for the best possible results.
For further information contact via:
Platinum Garden Design: Tyburn House at The Alexander Stone Company, Desford Lane, Kirby Muxloe, Leicestershire LE9 2BR
Website: www.platinumgardendesign.co.uk
Tel: 07450 832080 (mobile), 01162 396406
Another proud member of the Guild family!