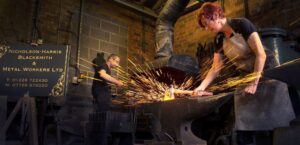 From desk to anvil!
Martin Harris and Jayne Nicholson are the owners of the company Nicholson-Harris Blacksmith & Metal Workers. They are based in their workshop in Overton at the National Coal Mining Museum in West Yorkshire.
Both Martin and Jayne are passionate about keeping traditional skills alive, one of the reasons they started their blacksmithing business. From their workshop they produce a range of items – from welding to hand-forged gates, railings, garden furniture, fireside and hearth items to decorative pieces and light general steel fabrication.
Background and experience
Martin has been a blacksmith for over thirty years. His training first started when he was offered a seven-year apprenticeship at the wrought ironworks at Blists Hill, a Victorian working museum in Shropshire. Martin jumped at the opportunity to learn traditional skills from the blacksmith, which included the opportunity to make wrought iron from scratch.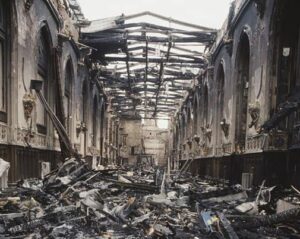 At that time Prince Charles was also patron of the Iron Bridge Gorge Museum Trust, which includes Blists Hill. The blacksmith at Blists Hill had longstanding links with Clarence House and would make and personally deliver items for the Queen Mother, which she gave away as gifts. This set up a connection for Martin to become involved with restoration work after the fire at Windsor Castle in late 1992. He started work on the iron beams received from the castle at Blists Hill. Martin and the blacksmith reworked the beams into wrought iron bars that were then returned to Windsor for recycling. He also made ornate new hinges for the door of St George's chapel at Windsor.
Martin then moved to Eura Conservation, one of Europe's largest conservation companies and spent about ten years working on conservation projects. His work included forging missing parts for the Golden Gates at Exeter cathedral, rivet work on SS Great Britain, the gates and railings at Buckingham Palace, ironwork on Queen Victoria's bathing machine (now at Osborne House), work on the fernery and footbridge at Swiss Cottage Garden, Bedfordshire and the railings and trefoils at Linlathen, the oldest iron bridge in Scotland.
Setting up the business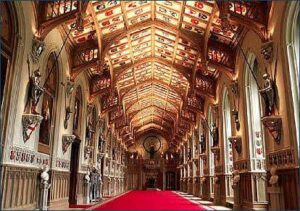 Over five years ago Martin moved to Yorkshire where he and Jayne set up their business together. In 2017 they moved to the forge at the National Coal Mining Museum. This was an ideal opportunity for the business, as the Museum had struggled to find people with the relevant knowledge and experience.
Jayne's background included plenty of practical experience in woodwork and metalwork and gained her qualification, but was unable to secure an apprenticeship after leaving school. Having taken an Honours degree in law as a mature student Jayne already had a well-paid job in law. However, when the opportunity arose to swap a desk for an anvil she grasped it with both hands. The Nicholson-Harris Blacksmith business was born.
Nicholson-Harris Blacksmith
At the Museum's blacksmith's forge, Martin and Jayne showcase traditional crafts and produce a range of hand-forged items that are sold in their shop. They also run regular demonstrations and hands-on blacksmith experiences for visitors.
They also teach Heritage Skills to young people aged 14 to 19 years. Martin and Jayne recently delivered a six-week course for two students, with one-on-one teaching. They put the course content together, starting with the basics such as lighting the forge, health and safety, tooling and different elements of forging.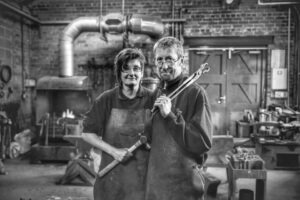 They carry out important conservation work on the Museum's collection, for conservation groups and private clients, working in differing styles from traditional to contemporary on both functional and decorative pieces. They design and make bespoke items to order and are happy to quote for any job small or large to create a unique handcrafted piece of ironwork. They can repair wrought iron, cast iron and fabricate projects to their customers' exact specifications and install items on site as required.
They are focused on providing workmanship of the highest quality, providing a highly reliable service and meeting the expectations of their customers.
Martin and Jayne have found the perfect niche and role for their talents, and provide a unique service to Museum, conservation projects and the public who enjoy learning about traditional skills.
A Guild member keeping this much needed craft alive!
For further information contact via:
Nicholson-Harris Blacksmith & Metal Workers Ltd, National Coal Mining Museum, Caphouse Colliery, New Road, Overton, Wakefield, West Yorkshire WF4 4RH
Website: nicholson-harrisblacksmithandmetalworkers.co.uk
Tel: 01924 848806
Email: jayne@nicholson-harrisblacksmithandmetalworkers.co.uk