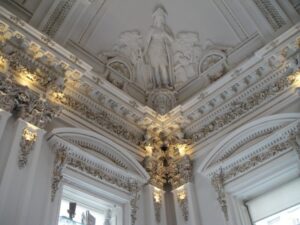 Scottish based Halcyon Ornamental Plasterers have been established for well over 30 years as high quality plasterers. Their services range from simple plasterwork to complete ornamental reproduction and restoration. Based in Glasgow, their work takes them across Scotland, much of the rest of the UK and Ireland.
Managing director John Gallagher started the company in 1983 and been part of the industry since the early 1970s. He has gained an enviable reputation within the trade as well as winning major awards in his field.
Services
Halcyon specialises in timber lath and lime plasterwork repairs and general and traditional plasterwork. Used for centuries, lime plastering remains one of the most reliable but beautiful finishes. The team has the craftsmanship to carry out this and other complex historic plaster repairs and rendering.
Ceiling and cornice repairs are also carried out by Halcyon and require a similar level of skilled craftsmanship. The company ensures that all buildings they work on are sympathetically restored to their original state. Halcyon can work from samples of the original or photographs to replicate any style of cornice or moulding. The ornate plaster mouldings they create are made in their own workshop.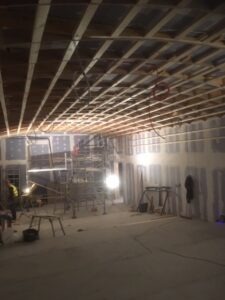 Halcyon are timber treatment and rising damp specialists, approved by Sovereign and Platinum. They will supply guarantees for the work they undertake if water damage has caused hidden problems such as dry or wet rot to timbers in close proximity to plaster surfaces.
When building, or renovating a property Halcyon offers planning and design services. They can also work closely with architects, planners and other skill providers to create an imaginative space that will suit their customers' needs.
As well as traditional plaster and ornamental plasterwork Halcyon undertakes all types of insurance reinstatement work, including work following fire or flood damage. This includes flooring installations, kitchens, bathrooms, ceilings, cornice repairs and restoration.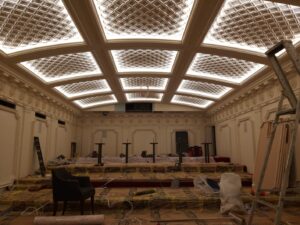 The company offers high quality building services for all their customers, carried out with minimum fuss and utmost professionalism. They pride themselves on providing a full start to finish service no matter what the requirements might be.
Finishing touches
Halcyon employs the very best specialist tradespeople from ceramic tilers to high-end decorators. Gold leaf and specialist paint finishes are often required following plaster and cornice repairs and they have highly skilled craftspeople to make sure the customer gets the finish they require.
To complement their skills in plasterwork and restoration the company also offer an interior decorating service using the same attention to detail, whether through historical research or from their customer's own ideas.
While Halcyon understands and appreciates historical building practices, their expertise cuts across all areas of plasterwork, be it the intricate design of period architecture or the clean, smooth lines of modern contemporary design.
The same level high level of workmanship and attention to detail is applied to every project whether it is a tenement flat or a stately home. From castles to cathedrals and hotels to private houses, Halcyon has a wide and impressive portfolio of work.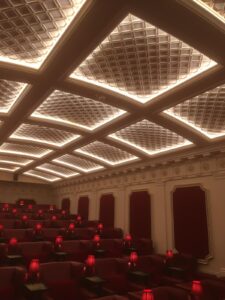 The Scotsman Hotel, Edinburgh
One project the company is particularly proud of is the Picturehouse at the Scotsman Hotel in Edinburgh. The hotel opened in 2001 in the early Edwardian building that had housed The Scotsman newspaper for nearly a century.
The client wanted to create an elaborate Victorian styled ceiling to complement other beautiful historical features in the hotel. Halcyon came up with the design, which was manufactured in their Glasgow workshop.
They fitted the design to a barrel ceiling with fretwork inlays and uplighting troughs. On the walls the heavy panels are surrounded by egg and dart moulds. These formed part of the opulent experience that this 48-seat cinema creates for its customers.
Moving forward
Halcyon is is one of the most prestigious companies specialising in high quality plaster repairs, installation and renovation. They are happy to offer free advice and quotations and take on projects large or small.
For further information, contact via:
Halcyon Ornamental Plasterers, 249 Glasgow Rd, Shawfield, Glasgow, G73 1SU, Scotland
Website: www.halcyoncornice.co.uk
Tel: 0141 423 2845
Email: info@halcyoncornice.co.uk