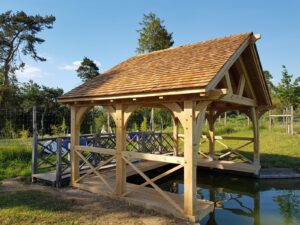 Green oak framing is the traditional craft of building structures from freshly cut oak timber, once a widely used form of construction in the UK. With its growing popularity today, one of the companies carrying out this craft is a family run business based in the south of England – Five Oak Projects.  
Having a passion for creating and restoring oak structures, Managing Director Oli Guthrie and his wife Liv set up Five Oak Projects in 2010. Their business is located at a farm at Long Sutton in Hampshire where they have a design office and workshop. 
Oli's expertise includes the design and construction of oak framed structures as well as the repair, restoration and conservation of historic buildings. He works with a skilled and experienced team who provide a broad range of services based around green oak framing. The company is extremely versatile and projects can range from barn conversions, homes, offices, annexes, gazebos and stables to tree houses, swings, sheds and wooden benches.  
The beauty and workmanship that is involved in the projects is outstanding. For example, one of their designs included in the Ideal Home magazine in 2019 showed how a completely rundown and neglected Hampshire barn was stripped back to its original frame and restored into a remarkable house that became a much loved family home.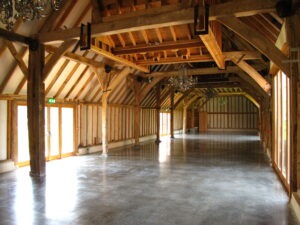 Each and every project is bespoke and tailored to a specific brief agreed with a client. The company set themselves high standards and aim to be the best in everything they do. Their portfolio is a testament to the skill and expertise that goes into each and every creation and restoration.   
Developing projects
While green oak framing is an age-old process, there are modern technologies that help with developing a bespoke design. When starting a new project Oli talks to clients about their ideas and illustrates how such a project might look. Once agreed, full CAD and 3D model drawings and engineering plans for building are drawn up for a client for each project before the build goes ahead. 
The planning process is an essential part of the job of getting the construction underway. The groundwork is prepared and the timber components manufactured offsite before the oak frames are put up and the build can develop. Oli sees a complex build as an exciting, stress free and enjoyable process, as the team works together with the client to create a thing of beauty – a sustainable and valuable high-end building.  
In 2017 Five Oak Projects were named as winners in the BUILD Sustainable Building Awards as Best Oak Framing Design/Build Company – South England, highlighting the company as one of the most outstanding performers in their field. 
The following year Southend Barns near Chichester, West Sussex, won an award for Best Barn Venue in the UK Wedding Awards of 2018. Oli and his team had worked with Southend Barns by renovating the Dairy Barn and 200-year-old Threshing Barn, creating a stunning ceremonies room and wedding party venue within the beautiful South Downs. This was a major restoration project of beautiful old buildings, plus a fully equipped kitchen. With their vaulted ceilings and exposed beams the venues radiate rustic charm, and the Threshing Barn is a stunning choice for a wedding reception. The renovation of Southend Barns was a huge, but immensely satisfying project for the team.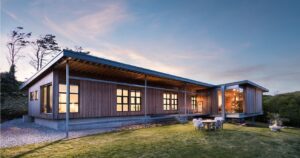 Recently  Oli completed work on an eco-build project in Cornwall for clients who recreated the house that featured in the 1986 movie Ferris Bueller's Day Off on the plot of a former dairy farm. Filmed for Grand Designs, the finished programme was aired in September 2019 and Kevin McCloud subsequently included the project in the 20th anniversary celebration of the show; "Kevin's Grandest Design" in August 2019.
Conservation in action
Of course, while the company may have a number of exciting projects at different stages of development, there may be other projects in need of urgent attention – and fortunately Oli and his team are on hand with a wealth of experience and expertise in the renovation, restoration and conservation of listed buildings. 
Five Oak Projects were called out to make emergency repairs to a Grade II listed oak framed granary in Mattingley, Hampshire at the end of 2019. The building was at risk of collapse and the client was anxious to work with restoration experts to not only shore up the building without causing further damage, but to ensure any works were carried out were sympathetic to the longer term goal of completely restoring it. Oli and his team were on hand to ensure the building was secure enough to make it through the worst of the winter.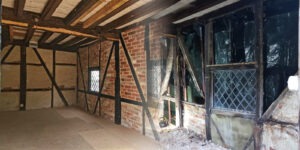 Having successfully achieved this, they commenced on a comprehensive plan of essential repairs in early 2020. They were determined to retain as much of the original fabric of the building as could be usefully reused, without jeopardising the integrity of the structure. The worst of the rotting timbers were removed, sometimes only sections of beams, with new air-dried oak spliced and jointed with the old timbers to form a solid, faithful and long lasting repair.  
Working onsite at all times, mainly using hand tools, new sections of oak were handcrafted to fit into place. Crumbling sections of bricks between the timber frames were carefully dismantled, sorted and cleaned. Replacement bricks were sourced from reclamation yards, so that the panels could be reinstated to complete the east elevation completely, matching the original structure and form of the building.  
With the structural repairs completed, the building was redecorated, including the use of natural breathable clay based paint, ensuring the building has been conserved for many generations to come. Oli and his team found the journey from its perilous condition to a new lease of life compelling, challenging and hugely rewarding.  
New projects
While the coronavirus outbreak in 2020 affected Oli's schedule in the short term, the team was back in action in the summer to catch up on lost time – including an ongoing restoration project, new barn, repair works and a new porch – and was pleased to see the finishing touches made on a six-bay Surrey barn with dormer windows and oak cladding.  
Hot days in June were an ideal opportunity for the team to work on a traditionally styled oak framed boathouse on a new man-made lake in Alresford, Hampshire. Designed to sit on the side of the lake in front of a wooden bridge for access, the boathouse provides plenty of room to shelter a large boat and hang a number of kayaks and paddleboards in the rafters. Accessed via a wooden bridge to the rear, the boathouse has enhanced its setting beautifully. This was another highly individual and enjoyable project completed by the company. 
Oli and his team continue to go from strength to strength. As they work, the overriding feeling running through each build is the magic, value and satisfaction that comes from building with oak. The joy of traditional green oak framing is that it creates long lasting, durable and healthy buildings that are sustainable and conserve resources for the future.  
Oli looks forward to working with new clients on new challenges in the future. 
Another outstanding member of the Guild family!
For further information contact them via: 
Five Oak Projects Ltd, Rowan Farm, Hyde Road, Long Sutton, Hants RG29 1UG 
Website: https://five oak projects.com 
Tel: 01256 862410  
Mobile: 07813 081202 
Email: oli@fiveoakprojects.com