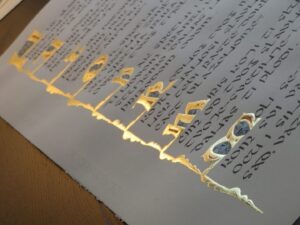 Ste Duckett is a traditional calligrapher based in Fife, Scotland. His calligraphy career was formed only in the last few years, following a lifetime's passion for hand lettering. Before working as a calligrapher from his studio in Fife the main part of his career was spent as a butler working at Blenheim Palace, Hatfield House and Arundel Castle.
Ste began to seriously develop his calligraphy when he lived for several years at a Cistercian monastery in Leicestershire. It was here that his love of lettering developed more purposefully. He used the time before dawn – traditionally reserved for silent mental prayer – to study calligraphy, drawing on the ancient manuscripts and their facsimiles in the library.
In recent years Ste has settled on the Scottish coast and developed a niche market for the production of illuminated manuscripts. His main source of inspiration is Ancient Celtic manuscripts and he has produced plainsong and other devotional manuscripts.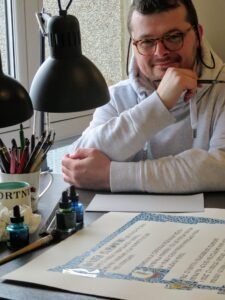 Ste has always been fascinated by how letters alone can form a work of art. His decoration is usually relatively uncomplicated and in the form of stylised shapes, so that the lettering can remain the central focus of each manuscript. Every aspect of a manuscript is thoughtfully considered, from the initial design and size of script, to the placement of decoration.
Ste's work is a fusion of ancient and contemporary design. The focal point is always the lettering, keeping adornment to a minimum. Each commission is entirely hand-lettered using historic inks and steel nibs and decorated with rich gilding. Ste uses only the finest materials in his work – from archival cotton paper milled in Somerset to 22ct gold leaf and India ink, ensuring that the work lasts for many years to come.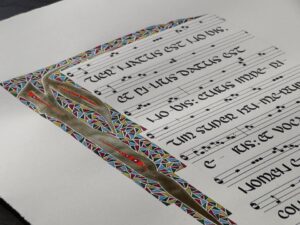 Ste's studio has a panoramic view that looks directly out on the Firth of Forth and his output is very much connected to this landscape, mainly using a coastal colour palette of blues and greens. He finds it inspiring to watch the changing colours of the ocean, to see the ships and the sailboats going by and to hear the call of the sea birds on the shore.
Ste produces commissions for homes and places of worship and his work can be found on display in the UK, Italy, USA, Montenegro and Canada.
Inspired by his larger commissions, Ste has also developed a collection of beautiful greetings cards, every one individually hand-lettered to order for special occasions.
The mainstay of Ste's work is providing one-off commissions to customers all over the world. Bespoke calligraphy is a beautiful way of creating a powerful focal point in a home, workplace or place of worship.
Another outstanding Guild member who we are proud to have in the Guild family.
For further information contact Stephen Duckett:
Find a Craftsman profile
Website: calligift.com
Tel: 07786 883793
Email: duckettcalligraphy@gmail.com