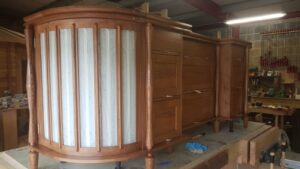 Cedar, Cutts & Moore Ltd run a fully equipped joinery and cabinetry workshop at Ranscombe Farm in Bighton, among the rolling Hampshire hills. CCM combine traditional woodworking tools and techniques with modern machinery. Their specialism is the bespoke fabrication of furniture, cabinetry and kitchens and other creative furnishing needs.
At the heart of CCM is Charlie Moore, who originally qualified as a plumbing and heating engineer, but always found he enjoyed working on the carpentry side of projects. When recession hit in 2008, he ventured out on his own undertaking general home improvements. It wasn't long before he found a real enjoyment in some of the more specialist sides of carpentry and joinery.
While working for private customers, Charlie undertook some work for an acoustics company, who were developing new products and became involved in building a recording studio. He quickly put together a team and found premises for them to work from. This enabled them to fabricate items such as soundproof doors and windows away from the recording studio, ready for installation on site. Of course, this drew them into a whole new area of joinery and cabinetry work, which soon became something they undertook on a regular basis.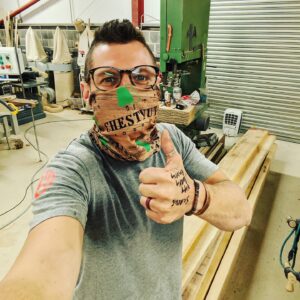 Finding working in joinery increasingly satisfying, Charlie started tailoring the business to workshop-based carpentry and working with interior designers and furniture designers. He had already started reinvesting back into the business to acquire more machinery, so eventually he needed new premises for the workshop as the business grew.
Charlie and the team have been at the newer premises at Ranscombe Farm now for over three years. They have also taken on another building on the same farm to house the large capacity CNC router and to use for large-scale assembly.
With a deep-held belief in the value of craft and craftsmanship, CCM is committed to delivering the finest end products. The team is small but brings together years of experience in order to take projects from concept to realisation – whether it's furniture or completely original design for a custom application.
When a commission is taken up, each part of the work is carefully designed to be beautiful as well as practical. Top quality materials are combined with techniques that complement the task. Everything is individually finished by hand to a signature high standard. This work includes creating original furniture, statement pieces and wooden cabinets.
Charlie and the team collaborate widely with 'trade partners' ­– designers, architects, artists and commercial companies. ​They draw on a wealth of knowledge across many disciplines and experiences, offering custom made, creative and original solutions to suit any project they are working on, and managing all the tasks along the way.
Over the years there have been up to five people working for CCM, but Charlie discovered that the more staff that were employed, the less time there was for him to work with tools. Now the company operates with two people, which suits him much better. Charlie says he prefers working with wood to paperwork, so he had to tip the balance in the other direction.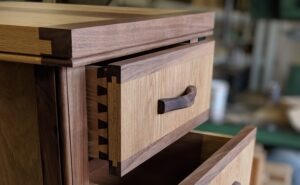 CCM undertake turning, milling, furniture design and assembly, kitchens, templating, research and development, staircases, doors, beds… and much more. The more unique the project, the better it is for the team. Resins are used now and again, but most of the time is spent making solid standalone furniture, either to a specification, or to an original design of their own. All the drawings are done by hand, and they are always looking for new materials, new ideas and big new challenges. 
Charlie is always willing to learn and to try something new. CCM pride themselves on trying to approach problems and projects in an original way. As the company goes from strength to strength it is certainly the case that some of their finest work has also been their most imaginative.
Every day, Charlie says he feels more and more aware of how fortunate he is to be able to work with such a wonderful material as wood – and he loves the creativity that comes with it and the results that can be achieved.
The Guild can highly recommend Charlie and his team and we look forward to supporting him along his business journey!
CCM would love to hear from clients about new projects big and small.
For further information contact:
Website: www.ccm-joinery.com
Tel: 01962 772 205
Mobile: 07932 466602 
Email: workshop@ccm-joinery.com             
Instagram: @ccmjoinery