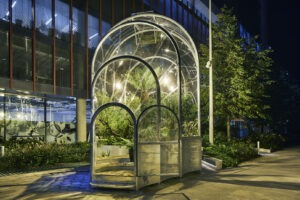 London-based Guild member Cake Industries is a design and fabrication company that produces a range of beautiful objects. This can be anything from sculpture to staircases, cabinetry to pavilions.
Directors Keefer Erickson and Andy Creed founded the company in 2009. Their collaboration brought together their complementary backgrounds in industrial and architectural design, steelwork and cabinetmaking.
A third director David Knight later joined Keefer and Andy and together they developed a company with a strong design, structural engineering and fabrication capability.
First major commission
The first major project for Cake Industries was a commission from Chris Wilkinson RA, who was asked to design and make the courtyard sculpture for the London's Royal Academy Courtyard for their Summer Exhibition in 2012.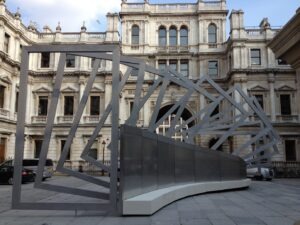 Chris designed a powerful sculpture based on a series of eleven wooden artist's frames with a sequential 90-degree twist. It was supported on a timber structure and clad in polished stainless steel. The piece was entitled 'From Landscape to Portrait'.
Cake Industries was commissioned to create the design for manufacture, construction and installation and also featured on the poster for the exhibition in 2012. After the exhibition the sculpture was relocated to Canary Wharf.
This project was also where David met Keefer and Andy. David was the consulting structural engineer for the job and stayed in touch with Andy and Keefer after completion. David later joined the company as a director in 2017.
The design process
Taking a design-focused approach to all their projects, Cake Industries is made up of a team of specialist craftspeople. They work with architects, designers, artists and contractors and on private commissions to bring ideas and concepts to life.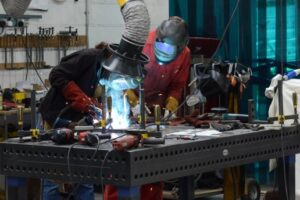 The company carry out a full design (including structural engineering) and assemble the elements in their south London workshop before installing them on site. At all stages they are committed to a collaborative approach with their clients to achieve the best outcome.
Cake Industries have fully equipped steel and timber workshops and are experienced in working in aluminium, brass, plastic, concrete, and hardwood, panel and engineered timber products.
Projects range in scale from individual pieces of furniture to large structural steelwork, small bridges and buildings. They include art installations, staircases, bespoke kitchens, cabinetry, fitted furniture and other interior projects.
The Hothouse
In summer 2019 Cake Industries was approached by the London Design Festival (LDF) and became part of the team that created the arched greenhouse named the Hothouse. The finished greenhouse stands near the Olympic Park in Stratford. It is filled with plants, highlighting the many exotic varieties that may grow outdoors by 2050 if climate change continues.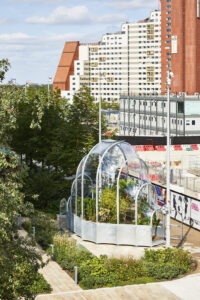 Cake Industries worked closely with LDF, the architect Studio Weave and structural engineers Arup. They helped develop a design that fitted into the required time frame and budget for the project. The design also needed to satisfy aesthetic and practical requirements as well as be reusable and therefore more sustainable.
Fabrication started in the middle of July 2020 and the team worked long hours to weld the bespoke steelwork together whilst ensuring that all the interior elements were built on time. The steelwork was galvanised and then sent to site where they had three weeks to install the pavilion and plants.
Cake Industries also had to design the electrical items and ventilation to make sure that it didn't overheat in the summer. Despite some late summer storms the project was completed a couple of days early in time for the launch of LDF in September 2020 where it was the landmark exhibit.
It was exciting work for the company to create a structure that is visible to so many people each day. It will remain part of London's horizon for some time to come.
The future
Cake Industries is looking to expand in the future. They would love to be able to combine the structural engineering capability they have, with the design and fabrication of beautiful objects on a larger scale. Their 'ideal project' is an architectural footbridge to provide connectivity and be a delight for users.
There is no doubt this innovative, forward-looking member will go from strength to strength and achieve their ambitions and much more.
For further information contact via:
Cake Industries: Unit 2, Abbey Industrial Estate, Bell Green Lane, London SE26 5TW
Website: https://cakeindustries.co.uk
Tel: 0208 659 0583