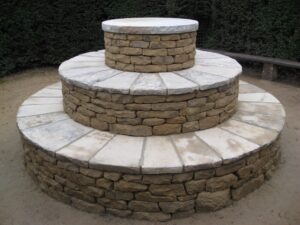 Guild member Landmark Walling's expertise lies in the heritage craft of dry stone walling. The company undertakes a wide variety of dry stone walling projects from traditional boundary field walls to garden schemes, sculptural and artistic installations and bespoke designs at exhibitions and horticultural shows.
Carl Hardman has been a full time, professional and qualified dry stone waller for 15 years. Before this he had a career in printing before falling in love with the craft of dry stone walling. A dry stone wall is a structure that can last for hundreds of years. It has an eco-friendly method of construction that interlocks the stones and holds them together without using mortar. The finer disciplines of the craft include constructing stiles, steps, pillars and arches.
While the craft of dry stone walling is an ancient one, it has moved forward a great deal in recent years. Much of the work undertaken today is walls for gardens or sculptural projects.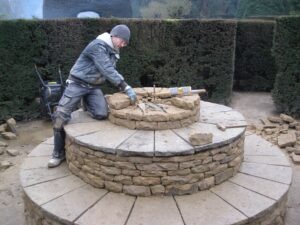 The service
The team at Landmark Walling offers a full design service, from conception to completion, bringing ideas and commissions to life, often innovating and pushing the boundaries of the walling craft to achieve a high quality product.  
Artists, designers, gardeners and landscape architects are the company's main clients, with many specifying a dry stone wall due to its eco-credentials, looks and heritage values. Working alongside their clients, Carl and his team listen carefully to what is required and translates this into beautiful stone walls and structures. 
Where needed, Carl is able source stone and architectural reclaimed features from a variety of sustainable quarries and suppliers. This ensures that the materials used are in harmony with both the location and the design.
Carl's team is made up of highly qualified collaborators and co-workers, which provides a flexible approach to commissions. The team can work together on larger projects, or alone depending on the size of the job. Having access to a wide network of skilled workers enables Carl to deliver larger commercial projects on time.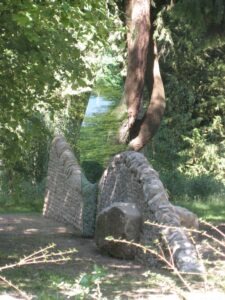 Specialising in dry stone walling requires a unique understanding of how stone should be selected, dressed and used. This translates well into work on mortared stone walling projects as well.
Notable recent projects include sculptural installations and restorations at Chatsworth House in Derbyshire, demonstrations at RHS shows, and private commissions in Slovakia using local granite. The projects have taken the team all over the UK and beyond.
Heritage restoration work
Carl and the team work with organisations such as National Trust and Natural England in restoring and rebuilding dry stone walling. The objective is to achieve accurate and careful restoration that makes a connection with past by using clues and hints provided by the wall itself.
This considered approach is fundamental to ensuring that heritage and history are not compromised or destroyed, but are preserved and enhanced along with local wildlife habitats. For this kind of work a respectful understanding of the historical functions and purposes of the wall or feature are essential.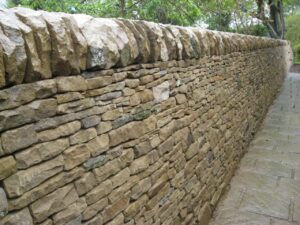 Training and teaching
Ten years ago Carl achieved the highest Dry Stone Walling Association (DSWA) award as an advanced Master Craftsman. As a DSWA approved instructor and Chair of the Derbyshire branch, Carl also teaches the craft of dry stone walling and organises specialised bespoke training courses. These provide 'hands on' training in the craft at inspirational locations throughout the UK and further afield, delivered by highly qualified craftsmen and instructors. The two-day dry stone walling course, for example, is aimed at beginners of all ages and abilities looking for a fun and informal course where they can learn new skills.
There are also team-building events and specialised courses for more experienced students who want to enhance their skills and progress to a professional level.
The future
Carl is always keen to demonstrate that dry stone walling has a role to play in many situations, such as the restoration of field boundaries, garden and landscape design and sculptural installations. All these are relevant today and should ensure that Carl and the team will keep the dry stone wall tradition firmly in place many years to come.
The Guild looks forward to supporting Carl along his journey over the coming years!
For further information contact via:
Landmark Walling, based in Cheshire, Derbyshire and Lancashire
Carl Hardman, tel: 07768 978846 or Sharon Tushingham, tel: 07917 858884
Website: landmark-walling.com
Email: enquiries@landmark-walling.com