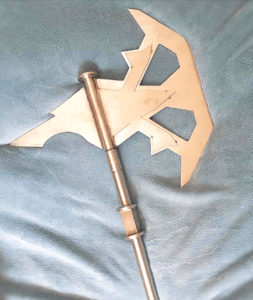 Self-employed Artisan Metal Fabricator and welder Matthew Williams has 22 years' experience in welding and fabrication.
Based in the West Midlands, Matthew has experience of working with pressure vessels, trailers, horseboxes, conveyors, water tankers and anything industrial. He has an extensive career as an industrial welder for several manufacturers.
Bespoke creations
Matthew produces bespoke metal art work and creations for sale. He also enjoys working with wrought iron and inlaying his own artistic designs in two-tone metal.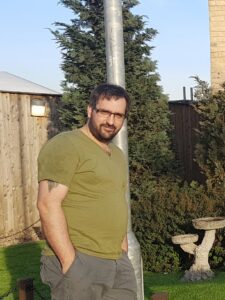 His real passion is for replications of artisan weaponry and designing his own artistic blades and axes. Some of this is commissioned work, replicating favourite weapons of TV and film such as Game of Thrones, all hand crafted.
Matthew thrives by a challenge and solving problems. He is a perfectionist by nature but has a creative whimsical streak when it comes to his own designs. 
Matthew enjoys one off commissions and making things reflect someone's individual personality though his designs. He is able to work to what a customer wants and creatively bring their ideas to life.
He has worked on several outdoor projects including bespoke plant pots, in the shape of cars. He has been known to create bespoke fire pits, BBQs, gates and fencing. He enjoys creating his own designs in fencing to suit personality and needs of individual customers. 
Matthew has also produced a bespoke Gothic-inspired garden archway with a rustic finish, ideal for rambling roses, a completely unique design.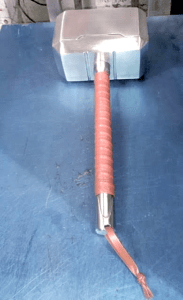 Upcycling and vintage projects
Matthew is really interested in upcycling and enjoy re-purposing items that have passed their original purpose and giving them a new lease of life. 
He has been involved in some vintage projects, such as a project for Wythall Transport Museum in Worcestershire to restore a bus arch on a vintage bus.
He has also made 10¼in and 7¼in narrow gauge track and parts for Whitfield Light Railway and oak-handled shovels for steam locomotives he is selling through Denver Light Railway.
The future
Matthew is working hard developing the industrial side of the business while maintaining the one off designs which he is renowned for. Offering a more diverse range of services to help continue to grow the diversity and reputation in the coming years.
For further information contact via:
Kiss My Axe, 1745 Bristol Road, Birmingham B45 9PE
Tel: 07759 126809
Website: www.kissmyaxe.org.uk
Email: kissmyaxeartisan@gmail.com