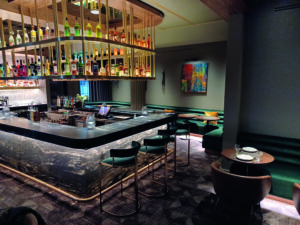 A passion for design is at the heart of Inside Out's successful commercial furniture business in south-east London. The company creates bespoke furniture for businesses – such as restaurants, café bars, hotels and universities.
Making unique furniture is something Inside Out has successfully been doing since 1999. Managing Director Lisa Cluer recognised a gap in the market for producing design-led furniture for business clients. With a background in interior design and commercial furniture she set up the company which grew and flourished, moving to new premises in 2015. The team at Inside Out are made up of talented and friendly design enthusiasts. They are based at head office in London and more recently at their European office in Berlin.
Furniture design is central for any design scheme, creating the character of a space. The design team have a hands-on approach, working with interior designers, architects and venue owners to achieve the look they want. Each venue or brand is unique, so each client's needs are different. Inside Out aims to meet their requirements while providing excellent customer service. The team is always up for a challenge!
The design process
Inside Out aims to make the design process as easy and as straightforward as possible. If a client wants to fit out a café bar, for example, Inside Out will first visit the site. They'll take measurements, discuss styles and furniture ideas from the client making sure they will be robust enough to withstand the commercial market.
Sometimes the client will have a clear idea of how they would like an interior to look. If not, the furniture showroom at the head office in Greenwich can spark creative ideas. Here clients can view the latest samples of new best-selling furniture, bespoke seating and samples of materials and fabrics. Early on in the process clients are encouraged to come and 'try before you buy' and see furniture styles for themselves. This helps to focus on the aesthetics, upholstery and comfort of different pieces.
To create a unique look for each venue, Inside Out creates technical drawings using the most up-to-date CAD systems. They create visualisations using a rendering software called V-Ray. This models the furniture to scale to make sure all the proportions work and have all the technical details they need.
The client has many options to consider the furniture before it is made. They are offered a space planning service, furniture design visuals in colour and a 3D furniture model service! This means the client can 'see' the furniture before the design is built. Sketchfab is an augmented reality feature which allows the client to see the furniture in situ. By scanning the QR code they can project the furniture model at the correct scale into the space. The client can 'see' the model in position and get a very good idea of what it will look like.
Getting all this right is important with bespoke furniture. It takes a lot of time and effort to produce one-off pieces. It also helps clients to feel confident in the design and fabric colour they have selected. The team can advise on design and suitable finishes and upholstery choices. This means the furniture complements and enhances the space as much as possible.  
To make up the products Inside Out liaises with furniture workshops based around the country. All the items made are supplied by trusted craftsmen. They are highly experienced in the industry and can provide exactly what clients are after. The furniture is superior in quality to retail furniture and is made using hardwearing and sustainable materials. Every piece of furniture is inspected after manufacture. This means customers are reassured that their furniture is both robust and long lasting.
Recent commissions
One of Inside Out's recent projects was the refurbishment of a restaurant for London's National Gallery. The Inside Out team worked with the interior designers for Muriel's Kitchen restaurant, Ochre. Inside Out designed and supplied bespoke dining chairs and bar stools. They also created a stunning communal dining table as a feature piece. Handcrafted in tulipwood, this large and intricate table was created in one of their workshops and now takes pride of place at the restaurant.
Another exciting project, which included a wide variety of furniture was Viajante 87 Club in Notting Hill. The bespoke furniture included a variety of banquette seating, stools, tables and workstations. The furniture supplied by Inside Out at venues like Ochre, Sparrow Italia, NYX and Hilton Metropole are highly successful in transforming venues into unique and popular spaces for customers. 
The future
It takes a high level of creativity, skill and craftsmanship to turn an initial idea into beautiful bespoke furniture. But his is something that the design team at Inside Out excel at and enjoy doing on a daily basis. Over the years they have built up a broad and varied base of clients in different sectors including an impressive list of big brand names.
For the design team there are plenty of new projects in the pipeline for the year ahead. Work in hospitality remains important, including work in hotel refurbishments coming for the Hilton and Marriott groups. Each new location leads to new and exciting future design possibilities and challenges to meet in order to deliver a product that is suitable in terms of design, quality and budget and to provide exceptional customer service.
For further information contact via:
Website: insideoutcontracts.com
Phone: 020 305 3130
Email: lisa@insideoutcontracts.com