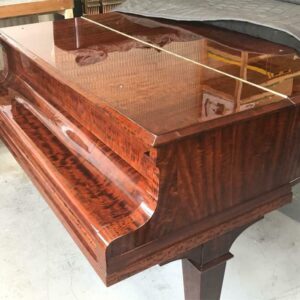 Over 40 years Iain Gordon has built a reputation for the highest levels of craftsmanship as an independent Steinway & Sons trained piano tuner and technician. Based in South London, Iain undertakes work throughout the UK and internationally, specialising in the servicing, rebuilding, tuning and toning of fine German grand pianos. Full grand piano restoration is carried out at his workshop, typically within a four to six-week timeframe.
Iain is currently resident technician at London's Henry Wood Hall, where he is responsible for looking after several Steinway concert grand pianos, keeping them in prime condition for a busy daily recording and rehearsal roster of visiting concert artists and major symphony orchestras including the English Chamber Orchestra. Many concert grand pianos are tuned on a daily basis and may even be checked two or three times on the day of performance, so Ian's expertise is crucial. He also frequently works with the world-famous Academy of St Martin in the Fields chamber orchestra.
During the summer, Iain is most likely to be found in his annual servicing role at Trinity Laban Conservatoire, one of London's four renowned music colleges. An example of his work there is the restringing and soundboard maintenance of a 40-year-old Steinway B, which also required new agraffes (guides at the tuning-pin end of the string) and hammers.
Iain's peerless craftmanship has also seen him in demand at other venues such as Ronnie Scott's Jazz Club in London, the Guildhall School of Music and Drama, Blackheath Concert Halls and the Royal Conservatoire of Scotland.
Toning & tuning
Although grand pianos are Iain's first love and main business, he advises that it is good practice to have any type of home piano tuned at least twice a year. Humidity, temperature, usage and general setting all play a part in determining how stable a piano tuning remains. This is of particular relevance to the UK, where low humidity in winter can cause a drop in piano pitch, with the reverse being true in summer.
Another important aspect in piano maintenance is the toning, also known as voicing. Iain uses his skill to achieve a balance in both dynamic power and brilliance across the whole keyboard. For example, any grand piano which becomes 'too bright' – when the felt on the hammers are worn down over time – can sound out of tune and uneven and will not be a pleasure to play. He also takes into consideration the piano's environment and the particular tastes and requirements of the pianist.
Whether a piano is played by a professional for up to 10 hours a day or sporadically by a novice, regular servicing by Iain can address any issues that may take away from the performance or quality of a piano. This can include tonal problems, often caused by a loss of compression and moisture absorption to the hammers over time. In this instance, Iain may shape or replace the affected hammers. Any friction points in the keyboard or overall action will also be checked for wear and tear and rectified accordingly.
Full restoration service
In some cases, a highly labour intensive restoration will be required, with the technical work alone taking approximately 20 days. And when undertaking a full interior Steinway build, Iain will leave no component untouched. Tasks include unstringing and removing the iron frame and removing the action, keys and damper system. It is not uncommon for Iain to have to 'revisit' previous restoration work by general piano technicians who do not have the advanced knowledge and specific skills he acquired during his rigorous training at Steinway London.
Happy clients
Iain is proud of the glittering rollcall of artists he has 'prepared' pianos for. These include Chinese virtuoso pianist Lang Lang, Norway's foremost pianist Leif Ove Andsnes and Argentine Martha Argerich, widely hailed as the world's No 1 classical concert pianist. Glowing reviews from a range of impressed clients, such as film director Vadim Jean and concert violinist Alan Parmenter, who recorded his first record accompanied by one of the Henry Wood Hall Steinways serviced by Iain, are further testimony to his outstanding reputation.
Iain also has a small rolling online stock of Steinway pianos for purchase. Presently these include Steinway & Sons biggest seller worldwide, the Model B, described as the 'finest balanced piano in existence' and the Model S, first introduced in the 1930s. At just over five foot, the latter is the smallest version of the famous grand piano, perfect for space-squeezed prospective buyers.
For further information contact via:
Website: iain-gordon.co.uk
Phone: 020 8851 6467
07720 446 385
Email: info@iain-gordon.co.uk