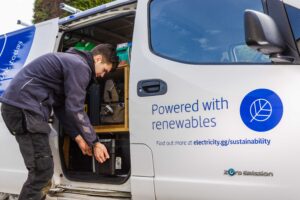 The electrical and plumbing commercial arm, of long term Guild member Guernsey Electric, offer a high level of service across residential and commercial work on the island as well as being the Group who is the sole supplier of electricity.
Guernsey Electricity's history dates back over a hundred years. In the late 19th century electricity was supplied as a concession from Edmundson's Electricity Corporation, based in London. In 1907, the Guernsey Electric Light and Power Company acquired the concession, and the company became the States Electricity Board in 1932.
Guernsey Electricity was adopted as its trading name in 1993 and continues to supply the island with all of the power it needs. Annually, 90% of Guernsey's power comes from renewable energy, such as hydro, wind and solar power, imported from the European grid. Top-ups at peak times are supplied by community solar power and diesel-generated electricity.
The work of electricity and plumbing teams
Guernsey Electricity is the natural extension of the electricity generation and supply business who have been employing electricians for over 40 years. The commitment to supplying electricity to the public by Guernsey Electricity has extended to providing electrical and plumbing services as a trade in both homes and businesses.
Electricians are on hand 24/7, their expertise is provided 365 days a year and they are fully trained and insured. In particular the electrical team are able to provide an emergency service as well as undertaking heating installations and fitting air-source heat pumps and electrical charging units. They also take on electrical repairs, re-wiring jobs, lighting design, smart technology installations, EO installers for electric car charging and checks on electrical installations (ECIR testing).
The plumbing team was added to offer a full service for wet electric boilers and underfloor heating systems over the last few decades. The team work on plumbing installations in bathrooms and kitchens as well as undertaking repairs.
This team makes sure every job is done properly, safely, and with no hidden extras. Each job is carried out for the customer at a fixed price quotation. Both teams are extremely reliable and keep to their word, so a plumber or an electrician will arrive at their home or business when they are expected to. If a planned visit needs changing, Guernsey Electricity will be in touch.
The green transition
The electrician and plumbing teams are part of the bigger picture at Guernsey Electricity and they are experienced in projects that help improve homes in support of Guernsey's transition to renewable energy. The aim is to work together with customers and other contractors as 'the boots on the ground' to help reduce greenhouse gas emissions and achieve net zero by 2050.
They also aim to bring cleaner energy to more households and businesses. Some work may involve switching from fossil-fuel systems to electricity, facilitating electric vehicle charging at home, and other smaller jobs that may help improve a property's efficiency.
Havelet Waters
Guernsey Electricity's electricians and plumbers are experienced in projects of all sizes. One project that the company is particularly proud of is Havelet Waters. This is a prestigious apartment development built on the site of a former brewery and transformed into luxury living accommodation. The apartments are in a prime location overlooking Castle Cornet in St Peter Port. Completed in 2018 all the homes have a high level of specification for discerning buyers and all the wiring and electrical installations were carried out by the team.
Awards
In 2018 Guernsey Electricity received the accolade of Best Electrical Services in the British Isles award, competing against thousands of other businesses. The company collected over 157 reviews from customers happy with the service over the year, providing 'outstanding customer service' and 'dedicated to serving the island's community'.
Today Guernsey Electricity continues to supply electricity to the island and the commercial arm provides qualified electricians and plumbers for the people of Guernsey with outstanding service and support.
For further information contact via:
Electricity House, Northside, Vale, Guernsey GY1 3AD
Call to action: 01481 241984
24 hour emergency electricians: 0800 587 0285