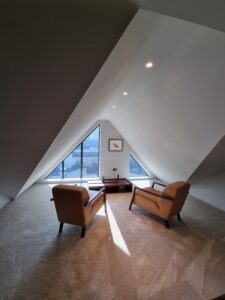 If you're based in Essex, there's a strong likelihood you may already have glimpsed some of Granite Build & Design's exemplary work without realising it. This exciting building company, located in Rayleigh, specialises in making any extension or conversion dream a reality. If you're starting from scratch and feeling daunted, Granite Build & Design can help undertake new house builds, too.
Although the company, founded by Stephen England in 2017, uses a wide range of materials, 'granite' features in its name to symbolise durability, strength and beauty – all hallmarks of the work they consistently produce. Granite Build & Design also prides itself on high quality craftsmanship combined with fair pricing.
A 20-strong team with over 50 years of experience between them cover all aspects of construction and day-to-day running of the company. Keeping many trades in-house allows for full personal control over project management, from architectural design, drawings and calculations, to planning and building regulations. Only premium products and materials sourced from reputable distributors are used in other key stages of construction, including groundworks, plastering, roofing, electrics and plumbing.
Unique garden rooms
During the COVID lockdowns, Granite Build & Design established a sterling reputation for its Granite Garden Rooms, as clients looked for ways to separate their working lives and home lives. Finer details such as a wide range of exterior options – a cement-based product like James Hardie weatherboarding or a cedar wood cladding, for example – and integrated speakers in the soffits for garden entertaining, sets the company apart from competitors who have a more limited offering.
Today, Granite Garden Rooms are still a popular choice, as clients continue to see the value of adding more space to a property in the form of a home cinema, gym or office. Aside from garden rooms, Granite Build & Design have around 8–10 projects on the go at any one time, ranging from new build projects to extensions and loft conversions.
Triumph through adversity
As with any business in its early years, it hasn't all be plain sailing. A new build project in Langdon Hills, started in 2019, had every kind of challenge thrown in its path: extreme bad weather, lockdown restrictions, and both scarcity of, and rocketing prices for supplies.
So Granite Build & Design is rightly proud of the final result, a stunning property boasting unique features such as intelligent on/off glass, a cooling system in the ceilings, underfloor heating throughout, a polished concrete interior, and three Granite Garden Rooms. The home is also equipped with a new type of Smart technology that the company had never installed previously. This level of detail has taken Granite Build & Design 'to the next level'.
Safe as houses
An important part of Granite Build & Design's 'product priority' is protection and security. A key focus on security across all of its products gives customers peace of mind that both their home and family are safe and secure now and in the future. This extends to an aftercare service which guarantees a client can call the company 24/7 and have any concerns resolved.
Future plans
While projects continue to flow in via recommendations from previous happy clients, and suppliers and local architects the company has built strong, trusting relationships with, Granite Build & Design isn't resting on its laurels. Plans for future progression include expanding the geographical area it services, increasing the volume of new build projects, team expansion to undertake specialised projects such as loft conversions, home extensions and garden rooms, and continuing to provide clients with a complete turn-key service, from ground-up to decoration. 
You can call Granite Build & Design for a free, no obligation quotation or some friendly advice on starting your own project:
Call on 01268 500891 
email: info@granitebuildanddesign.co.uk.
Or contact the company via www.findacraftsman.com.