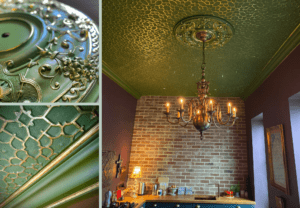 Frank Holmes has come a long way since his first decorating job, painting the interior of a restaurant, over 30 years ago. Starting out with a friend after art college, the pair 'borrowed' a Tesco trolley to transport the necessary materials across Morecambe town centre.
Raising awareness
Frank tells this amusing story in his recently launched blog, Perfectly Frank (frankholmesltd.com). He created the regular blog in response to the new generations of owners who are keen to renovate and restore their newly bought Victorian homes to their former glory. Through the blog, he shares both his wealth of experience, highlights the options available for restoring original features, and aims to create an appreciation of the craftsmanship behind the increasingly rare heritage designs found in period properties.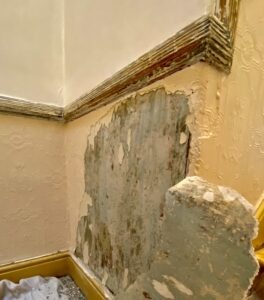 As Frank stated when we spoke to him 'After many years spent restoring historically beautiful structures I felt there was a need to talk about how to respectfully restore and look after original or renovated features. The unfortunate outcome of being in this industry is sometimes you see decorative details have been lost over time due to the lack of knowledge or a personal taste for clean lines.  But thankfully there is a growing resurgence of renovators keen to restore or reinstate features in their period properties.  We hope to raise awareness via the blog to understand the artistic and historical value to many of the features and how best to nurture them for future years.'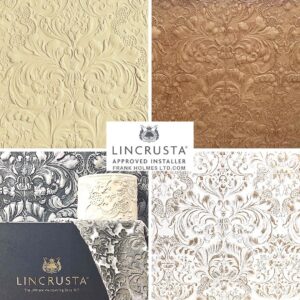 As a proud member of The Guild of Master Craftsmen, Frank provides a professional, high-end decorating service with exceptional attention to detail across Northwest England. Seeking an outlet for his artistic side, Frank undertook advanced level training to become an Approved Lincrusta Installer and Restorer, which was to become a catalyst for specialising in heritage decorating and the incorporation of traditional skills such as gilding and wood-graining into his work.
A Victorian invention
Lincrusta is a deeply embossed wallcovering, launched in 1877 and still in production in the UK today. The brainchild of British inventor Frederick Walton, it was a progression of his earlier linoleum patent, quickly becoming a hit with the rising Victorian middle classes, due to its affordability, intricate design work (created by high-calibre artists and designers) and durability.
Lincrusta takes its name from the Latin 'linium', meaning flax (linseed) and 'crusta' meaning relief or embossed, and it is made from a gelled linseed and wood flour paste, pressed onto a heavy backing paper. It can also be washed with soap and water – another 'tick' for the hygiene-conscious Victorians.
If installed correctly, Lincrusta, which cures (hardens) over time, is both water resistant and fire retardant and can last for many decades. Much of Frank's specialist work sees him restoring existing Lincrusta dado panels and friezes that have perhaps suffered water damage or when new homeowners discover the wallcovering hidden behind boarded areas.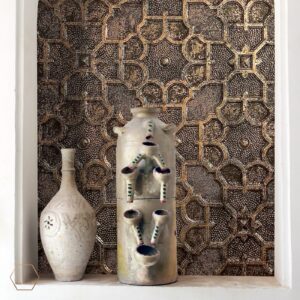 A Solution for repairing discontinued Lincrusta and Anaglypta Designs
Many pre-1939 designs were discontinued, but as a result, the Lincrusta Restoration Kit was developed. This enables approved restorers like Frank to replicate designs in repeats of up to 1 square metre.
In this project example, previously the Lincrusta dado wallpaper had been badly repaired following water ingress using a miss-matched Anaglypta on the landing. Frank was contacted when new owners wanted to repair further damage and reinstate the original Lincrusta design. Consulting the Lincrusta archives he identified pattern no.1424. is likely to be original to the house, which was built in 1904. Frank was able to reproduce the design for a sympathetic restoration in-keeping with the original.
A useful solution for reproducing a few extra panels needed to make repairs to damaged areas, or perhaps to extend a Victorian dado over a blocked-up doorway. The same mould-making method can be used for the restoration of other similar raised relief wall and ceiling designs including heritage Anaglyptas.
Customer recommendation:  'From our very first meeting we were impressed and reassured by Frank's passion, skill and experience with Lincrusta, and we are so pleased with the end result.  A true craftsman, and a really friendly, reliable chap too, I would have no hesitation in recommending Frank Holmes'.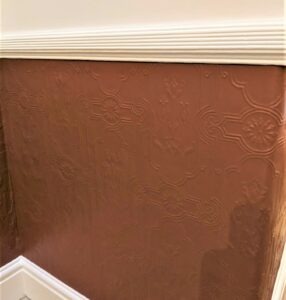 Discovering hidden gems
For Frank, a real thrill is finding Lincrusta in unexpected places. This happened during the restoration of a grand Georgian country house in Cumbria, when the owner rigged up a light to shine through an exposed section of a suspended (fake) ceiling. Frank recalls: 'I peered up though the frame and into the void above the false ceiling. What I saw took me completely by surprise. I felt like Howard Carter must have done when he first peered into the tomb of Tutankhamun. OK, that's maybe a slight exaggeration, but I saw a stunning raised relief wallpaper and frieze that appeared untouched since it was first installed.'
Other projects include an ongoing Victorian dining car restoration for the LNER Coach Association. Playing our small part in collaboration with Lincrusta Heritage, Frank helped to re-create a historic Lincrusta border within the 19th century carriage, which will eventually run on the North Yorkshire Moors Heritage Railway.
Alongside his Guild of Master Craftsmen membership, Frank is also a member of The Society of Gilders, ICON (Institute of Conservation) and SPAB (The Society for the Protection of Ancient Buildings). He also undertakes designer wallpaper installation, faux finishes, gilding, marbling, graining, and traditionally hand-painted or spray-painted kitchen cabinets.
To find out more, visit:
or contact the company via:
You can also call 01524 853245
or email email@frankholmesltd.com.