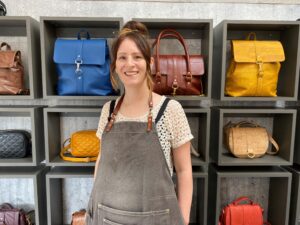 Debbie MacPherson specialises in designing and handcrafting bespoke leather and cork handbags and accessories from her retail workshop in south Devon. Based in the craft centre at Cockington Court in Torbay, Debbie's studio is part of a creative community where she produces fashion-conscious quality items.
Career path
Debbie's career spans over 25 years and she started out as an apprentice shoemaker for a small company based in Saltash, Cornwall. Here Debbie learned how to make all aspects of a shoe and was employed after the two-year training course.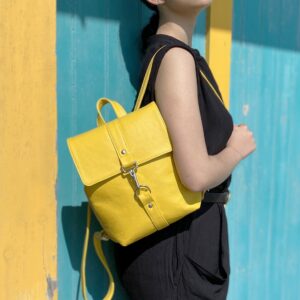 Whilst she enjoyed shoemaking, Debbie was keen to explore the fashion side of the accessories industry. She moved to London to take up a BA Hons degree in Design, Marketing and Product Development in Footwear & Accessories at Cordwainers. This prestigious college (now the London College of Fashion) has some well-known alumni including footwear designers Jimmy Choo, Emma Hope and Charlotte Olympia. When she graduated in 2001 Debbie was among only three students from her year group to receive a complimentary year's membership to The Guild of Master Craftsmen. This was presented to Debbie at an awards ceremony by Jimmy Choo OBE!
During Debbie's time at college she specialised in both footwear and accessories, in particular discovering a passion for handbags. She knew that being a maker was what she wanted to do in the future. Rather than focusing on design Debbie wanted to be involved with every stage of making beautiful bags. Her business Debbie McPherson Atelier was set up in 2006 when she began her journey selling directly to customers through her own website and select online marketplaces.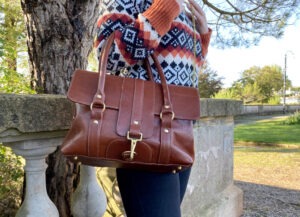 The retail workshop
In 2015 Debbie was able to secure her own retail workshop at Cockington Court, joining a range of other highly skilled craftspeople. Working with Italian leathers and solid brass saddlery fittings each bag she makes in her workshop is designed to be 'classic, wearable and become like a trusty old friend'. There is also a range of small accessories available, such as belts, card holders, glasses cases and napkin rings, as well as technology cases and accessories for dogs.
Bespoke & personalised
In addition to the 'ready to wear' range, Debbie also offers bespoke items that are perfect for their intended use. Size, materials, colour and fitting and additional features, such as pockets, can all be adapted or added to suit individual requirements. Personalised items such as leather labels are stitched in and hot foil can be used for names and initials on glasses cases and napkin rings. These have all proved popular requests for gift items.
Debbie's ethos is based around the concept of 'slow fashion'. Slow fashion (the antithesis of 'fast fashion') is where an item is designed classically and made well from high-quality materials in order for it to last as long as possible, so reducing waste. Debbie also offers customers a refresh and repair service to extend the lives of their items.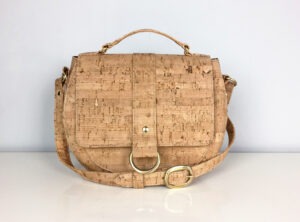 Vegan cork
In 2019 Debbie introduced her range of vegan cork bags and accessories. She had been planning to introduce a vegan range for a while, but had struggled to find a suitable material that was also eco-friendly. Cork shares a lot of features with leather such as strength, durability and water-resistance and is also highly resistant to abrasion. It is also sustainable as once the cork is harvested from the tree the bark will re-grow.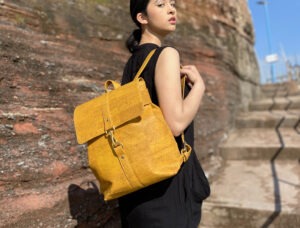 Debbie uses quality upholstery graded cork which undergoes both strength and durability tests. The material has a variety of amazing patterns and colours adding style and originality to each bag or accessory. Each item is made using many of the same constructions and processes that Debbie would use with leather and is one of only a handful of businesses currently producing cork bags professionally in the UK.
In 2019 Debbie's company won Highly Commended for 'Best Innovative Business' at the South Devon Business Awards and was a finalist in 'Innovative Business of The Year' at the Western Morning News Business awards based on her cork range.
Debbie's workshop in Devon is open five days a week and visitors are welcome to see her at work making individually hand crafted quality handbags. And Debbie's business continues to go from strength to strength. Making new products, finding new styles, materials and colours while using natural products for making her bags environmentally friendly as well as beautiful is at the heart of everything she does.
For further information contact via:
Website: debbiemacpherson.com
Email: debbie@debbiemacpherson.com
Tel: 01803 414080