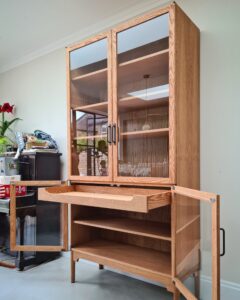 Cary Smith has over 14 years' experience in designing, manufacturing and installing beautiful bespoke furniture. Cary works from his home workshop in Highams Park in north-east London. Working on his own, he creates every item of furniture himself. This allows him the flexibility to create furniture for customers that suits their home perfectly. 
Cary likes to work on one project at a time, which means customers have his undivided attention while the job is being completed. His preference is to make freestanding furniture which incorporates traditional joinery techniques and solid timber wherever possible. His work includes making bespoke wardrobes, shelves, drawers, cabinets and bookcases. While he also creates kitchens, his workshop provides only limited capacity for the larger projects.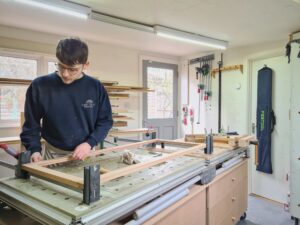 Becoming a cabinetmaker
Cary undertook a four-year apprenticeship after leaving school, which he did whilst also working for an employer. He spent three years on block release visiting the Building Crafts College in Stratford. This involved working full-time for six weeks, then spending two weeks at the college to gain his NVQ Level 3 qualifications. His training included gaining skills with hand tools, complex machining methods and how to run a project on his own.
Cary was taught to make furniture in the traditional way. As a cabinetmaker today he often makes furniture to fit the many Victorian and Edwardian homes in London, where he lives. He enjoys incorporating traditional features in these properties into his designs, so that the finished item looks as though it was 'always there'. He particularly likes to work with walnut, which he says is easy to work with and machines beautifully.
He also works with clients who will provide inspiration or an idea of the approximate style they are trying to achieve, whether they are looking for traditional shaker cabinets or a piece with a modern, modular appearance. He will consider the features of the room the finished piece will sit in, because, for example, there may be certain interesting mouldings on the skirting or fireplace which can be complemented in the design.
Unless a customer is trying to achieve an exact replica of something they've already seen, Cary will often suggest his own spin on the design. He likes to give the customer a gentle nudge in the direction of bold colours and design ideas, so making the design truly unique. Cary will send the client an accurate sketch of the work in advance and then there is usually some back and forth until the perfect solution is achieved.
Cary likes to have a hand-painted finish on traditional cabinetry; for a more modern look he uses a spray finish. For solid timber and veneers he always uses oil, which accentuates the grain patterns in a way that can't be achieved with any other finish.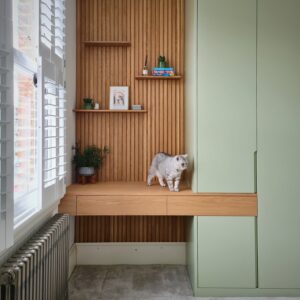 The workshop
Cary spent eight years with an employer working with wood before deciding that he would like to branch out on his own. He built a small workshop for himself that is 15 square metres in size in his parents' garden that took him four months to build.
Due to the limited space, Cary breaks down sheet materials with a track saw, using a grid-style workbench and various fences and squares to achieve repeatable cuts. He also has access to a workshop that he can visit if he needs to machine solid timber. Otherwise he is mostly machining on his own router table or using a selection of hand tools. Due to the limited space he is glad that he was brought up using hand tools and finds them a more mindful process than only using machines.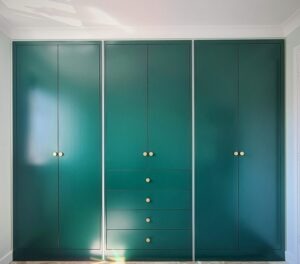 Recent jobs and challenges
Cary's testimonials show the range of furniture he has made and the positive feedback he has received from his customers – he has built bespoke floor-to ceiling shelving, alcove cabinets and bookcases, bedroom and loft wardrobes and kitchens while providing an excellent service for clients.
One of his most challenging jobs recently was a small kitchen project, that first required complete renovation. He had to remove two dropped ceilings, then build a stud wall to support some floor joists above, which were being held up by just a skin of plaster. All the wiring and pipework had to be removed and replaced and the walls plastered, before finally being able to make and fit the new bespoke kitchen!
The future
Cary is currently getting back to normal after the Covid pandemic. Today he is finding that making smaller items suits him best. He wants to move towards making freestanding items rather than fitted furniture.
He'd also like to create a few designs and open an online shop. He has always been very busy so non-commissioned work has always taken a back seat, but this is something that he would like to do in the future. Whatever path he takes, Cary's creative skills and talent as a cabinetmaker will no doubt ensure his success in the future and the Guild is excited to support him along his journey!
For further information contact via:
Cary Smith, Highams Park, London E4 9SG
Phone: 07511 020 978
Email: hello@carysmith.co.uk