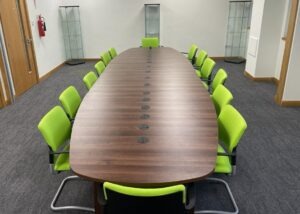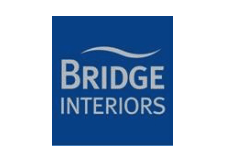 Guild member and Leicestershire-based Bridge Interiors Ltd offers complete office refurbishment, providing contemporary bespoke interior design solutions. Having started out in 1972 as Bridge Ceilings Ltd, with a small team of staff dedicated to delivering top quality work and exceptional service, the company has continued to grow over the years.
Bridge Interiors has worked on commercial refurbishments of all sizes, scopes and budgets. The success of the company and the satisfaction of its customers means that the company itself has been able to expand and develop a professional workforce.
In 2001 the company relocated to larger office premises in Coalville in Leicestershire before moving again to their current offices in Loughborough. This was to accommodate rising demand and to expand the business. The move allowed them to use their relocation, renovation and redesign skills to transform their new office space into the perfect working environment for the company. The contemporary, open-plan office space aims to reflect the exemplary service that is guaranteed to every client.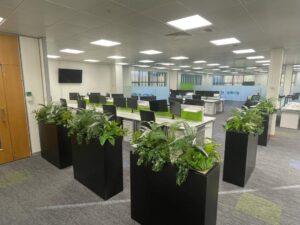 From updating a kitchen area to undertaking a complete office refresh, Bridge Interiors can offer a tailored and reliable service that enhances, supports and breathes new life into an office, school or leisure centre environment. 
With many years' experience of regularly performing office refits and refurbishments, Bridge Interiors can advise customers on what can be done to a current space to make it work to its full potential. So if a client wants to modernise or even to move to allow for expansion, they can provide a professional review to see whether they just need a refurbishment rather than the expense and upheaval caused by a relocation.
Understanding the vision
Before any design or planning can begin, Bridge Interiors takes time to talk to their clients and understand their vision. Their aim is to make a positive impact in the workplace, both for staff and customers. Bridge Interiors work closely with their clients from the outset, developing and delivering a scheme designed to suit their individual expectations.
The company offers bespoke, flexible solutions which are designed to accommodate all of a client's requirements. Initial sketches will generate visuals of key areas within the workspace to provide clear leads in the development of the project. They make sure that the proposed planning scheme is fully compliant with health, safety and building regulations. The result is tailored to suit the client's needs, support their brand and promote the ethos of their business.
Bridge Interiors are proud of the approach they take in helping clients make the most of their workspace. They believe that the process they use to expand, manage and realise their vision that makes them stand out from their competitors.
Working closely with customers from the outset, they develop and deliver a scheme to achieve what is needed. From the initial brief to the final achievement of the outcome, Bridge Interiors are always on hand to provide expertise and advice.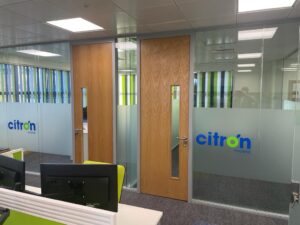 By using an all-in-one commercial refurbishment service, clients are able to minimise the costs of their project and reduce the time it takes for completion.
Work carried out
If clients don't need a full refurbishment but still want to update services or areas within a workspace Bridge Interiors offers a number of project-managed services. These include taking down walls, installing solid or glass partitioning, putting in new floor coverings, creating new ceilings, office seating, storage and furniture to suit all workplaces. Operable and folding walls can be added to create flexible space. All of the options available are of the highest quality to ensure that comfort, practicality and durability are perfectly balanced with aesthetics.
Bridge Interiors can also provide all the elements needed for improving or replacing washroom facilities and undertake the plumbing and installation work. They also deal with all the mechanical and electrical requirements for commercial properties. They ensure that lighting, voice and data cabling and wi-fi is all correctly installed, certified and designed according to individual client requirements.
Bridge Interiors work throughout Leicestershire and the East Midlands giving commercial premises a new lease of life. During the work they will consider their client's day to day operations, minimise disruption and deliver services on time. All company fitters are trained or accredited under the CITB Construction Skills Certification Scheme.
This year celebrating an amazing over 50 years in business, Bridge Interiors offers a high level of expertise and has many satisfied customers. When considering a commercial refurbishment, Bridge Interiors are the ideal company to help create an exceptional workspace.
For further information contact via:
Website: bridgeinteriors.co.uk
Phone: 01509 632610
Email: info@bridgeinteriors.co.uk