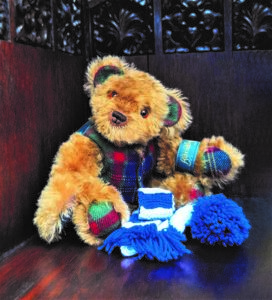 The highly creative Bea Baker-Muir uses her sewing talents to create exquisite costumed heritage bears.
From teddy bears in Savile Row suits to farmers in overalls – every one of Bea Baker-Muir's creations is unique and wonderfully made. What's more, Bea believes she has the best job in the world. Her love of the bears and of the creative process behind each one shines through in her work. After many years working in this unique craft, she's every bit as passionate about it as she was when she first set out.
And for someone who claims not to be particularly artistic, the detail crammed into each bear makes it something of a masterpiece.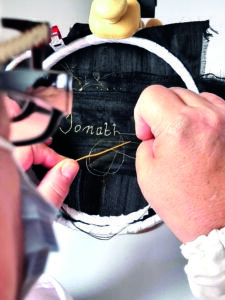 Bea's background
Bea's love of sewing stems from her childhood. Taught the basics at infant school, she clearly remembers 'getting the bug'. At six her parents presented her with an ancient Singer sewing machine for Christmas. Bea promptly created her first sewing achievement – a floral pincushion, which she still uses today.
She credits her skills to the various people who helped train and teach her on her sewing journey. 'I've had lots of different mentors. One was a highly skilled seamstress who worked for Norman Hartnell, privileged to work on the Queen's wedding and coronation gowns. She was a perfectionist and hammered that value into me.'
Bea is definitely a perfectionist. She has undertaken a great deal of high-end work as a seamstress, but her family and friends encouraged her into making bears. While bears were becoming very popular her love of making them grew and grew and turned into a business.
Making the bears
Each exquisite bear takes between 20 and 30 hours to create. Every one is crammed with personal information about the new owner. Bea recalled making a bear for one young man who asked for a teddy to act as a ring bearer for his marriage proposal. With the teddy holding the ring, the answer to the question was of course, yes. The bear is now a keepsake at the couple's home.
Another commission saw her making a pair of teddies for a teenage brother and sister. Bea got to know the teenagers through talking to their father. This meant she was able to bring alive two very different but very special bears. The personal touches she included meant that each individual bear was perfect for the new owner.
As with many master craftsmen and women, Bea's creations represent a time and place in personal and public histories. Knowing this, she is working on a bear to submit to the Victoria & Albert Museum. In the future Bea hopes it will be exhibited as part of the national collection.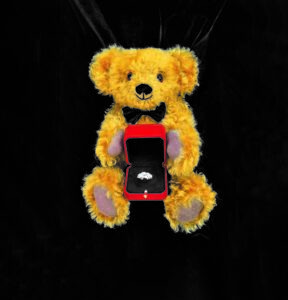 Bea's working practices
When it comes to downtime, sewing is part of every aspect of her life. Bea has a workspace in each room of her Hampshire home, dedicated to making a particular accessory or outfit. Bea is also huge believer in making her creations sustainable and only uses natural fibres in her work.
Bea's unused fabric is either donated, recycled or composted. This keeps her impact on the environment as low as possible. Bea says: 'I buy the best materials worldwide but I only source them from the UK. All of my packaging is made from recycled material such as old wine crates or FSC-approved wood.'
Bea also regularly teaches classes on how to sew, mend, reuse and repurpose fabrics and other textiles. Passing her skills down the generations.
Keeping skills alive
This attention to detail is what makes Bea unique as a craftswoman and is something she is rightly proud of. It's part of the reason she chose to join the Heritage Craft Association and the Guild of Master Craftsmen. 'We are losing our heritage arts and crafts; I had been aware of the Guild and its support, since I was a child. For me, it's about confidence. It sends a clear message about the level of our work, knowing you have to pass the grade to become a member.'
Bea accepts commissions for both new bears and restorations. A few bears are also available through her website. Back in her studio, her next bear creation is underway, ready to bring joy to its new owners. And as Bea herself says: 'Everyone deserves at least one teddy bear for life.'
For further information contact via:
findacraftsman.com
Website: baker-muir.co.uk
Instagram: @bakermuir