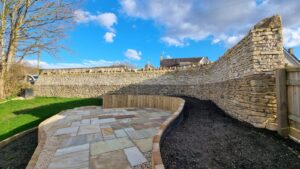 Josh Francis created Atum Stone in 2020 to provide high quality stonemasonry across Somerset, Wiltshire and the Cotswolds. Atum Stone offers a range of traditional stonemasonry skills to customers including bricklaying, restoration, repointing, lettering and dry stone walling. Josh's story is one of mutli-generations of stone work, love for his craft and upholding the traditional skills.
Josh's connection with stone goes back to his childhood. Growing up in a family that worked in construction he loved hearing stories about his grandad dry stone walling with friends and family. When he first held tools and stones in his own hands Josh felt completely comfortable. He was drawn to the imperfect nature of stone and was fascinated by how stone can be worked. Josh wanted to become a stonemason, led by tradition and the sense of becoming part of a building's history.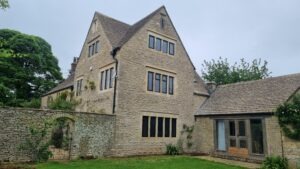 Josh learned traditional stonemasonry skills at Bath College and became the owner of Atum Stone two years later. Atum Stone is named after Atum, a god of ancient Egypt. Atum is associated with the creation of the universe and was the first god – having created himself from the primeval mound which rose from primeval waters. The mound is represented by the sacred benben stone, the top level of a pyramid.
This link to ancient stonemasonry is appropriate to Josh who is happy to be part of a profession that has its origins in early history. He sees stonemasonry as a fascinating industry and a lifelong learning experience. Josh takes a great deal of pride in his work, each year taking courses to learn new techniques in traditional skills so he can offer each job his best work.
Josh's work
Atum takes on a variety of traditional stonemasonry jobs, often working with his apprentice and other tradesmen on site to complete a project. Josh's special 'ruff mason' helpers on a job are his dogs, Bertie and Buddy! He particularly enjoys the restoration of old country homes with their rubble walls and tired lime mortar. The team at Atum are able to give these old buildings a new lease of life using traditional skills and methods.
With each job Josh will always work closely with customers and make sure they are completely satisfied with the outcome. In their online testimonials clients are very complimentary about the work of Atum. They recommend Josh on his knowledge, reliability, professional approach and patience, the outstanding quality of his work and friendly manner.
Present and future
One of Josh's favourite current projects is the Tintern Wireworks bridge across the River Wye. Built in 1875, the task on the bridge is to carry out the restoration of the stonework, structural works and to repair the bridge back to its original strength and beauty. Josh was thrilled to have been one of the craftsmen chosen to work on the bridge and the repairs will take about nine months to complete. Owned and supported by both Gloucestershire and Monmouthshire County Councils the newly restored bridge is expected to open again during 2023.
For the future Josh is keen to take on more larger projects within Historic England and perhaps the National Trust. He is keen to help maintain Britain's incredibly well build traditional structures for the future. He'd like to continue to do the jobs he enjoys doing, providing excellent service to customers, learning the trade and keeping traditional skills alive.
Joining the Guild of Craftsmen in 2022, Josh and his team truly love what they do and have many years of creativity in stone ahead of them.
For further information contact via:
Phone: 07849 691580
Email: info@atumstone.co.uk