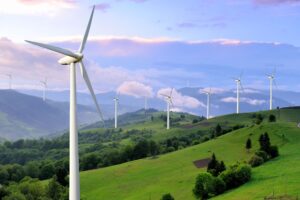 With the government committing £12bn to focus business and homeowners on the green industrial revolution, moving into this sector could be a smart move.
Britain's homes are going green, as announced late 2020 by the UK Government, with the aim of creating up to 250,000 new jobs and putting the UK at the forefront of the world's green industrial powerhouses.  A 10 point plan for a green industrial revolution was announced.
The plan contains:
A ban on combustion engine sales by 2030
With grants for electric cars, and funding for charge points. The sale of some hybrid cars and vans will continue until 2035.
A pledge to quadruple offshore wind power by 2030
Increasing to 40GW, enough to power every UK home.
Moves to boost hydrogen production
With the promise of a town heated entirely by hydrogen by the end of the decade.
£1bn for funds to insulate homes and public buildings
Using the existing green homes grant and public sector decarbonisation scheme.
An extra £200m invested in carbon capture initiatives
30,000 hectares of trees planted
Every year, as part of nature conservation efforts. This is equivalent in size to approximately 30,000 football pitches!
Moves to promote public transport, cycling and walking.
Around 50,000 of these jobs are to be created within the building sectors to help the UK meet its carbon net zero target by 2050. The main vehicle to drive this is the green homes (GHG) voucher scheme . This was due to dispense £2bn by the end of this March 2021 giving homeowners two-thirds of the cost of energy-efficient improvements, up to a maximum of £5,000 a household, or the full cost up to £10,000 if residents have low incomes.
Due to payment delays and initial challenges the scheme has now been extended to March 2022.
To make sure you understand the potential opportunities for you and your business in the coming years go to the ten point plan for a green industrial revolution.
Local authorities will be finding out if they have been successful with applications via the sector decarbonisation scheme in 2021 so register with them, and keep up to date with upcoming local contracts and tenders which will arise from successful funding applications.
If you are working on larger works, new homes, extensions and garages make sure you include any opportunities to make the project greener and more valuable for you, and the future.