Tudor Roof Tiles is an independent manufacturer of traditional handmade tiles. This successful company is celebrating an impressive haul of awards and accolades.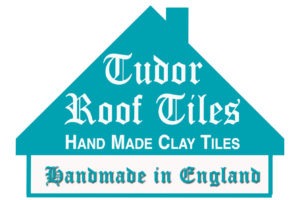 It has been shortlisted for the 2020 Homebuilding & Renovating Awards and is also finalist in the 2020 AJ (Architects' Journal) Specification Awards.
Its award-winning tiles have also featured on a number of popular TV programmes.
Recent accolades
Tudor first claimed the top prize in the roofing category of the Build It Awards in 2014. This award was for Tudor's incredible standard range of handmade clay peg and plain roof tiles. It won again in 2018 for its impressive bespoke tile-making.
This remarkable achievement was rapidly followed by success in the first ever Pitched Roofing Awards in 2018. This award recognises high quality products and workmanship. It also highlights successful partnerships between manufacturers and contractors.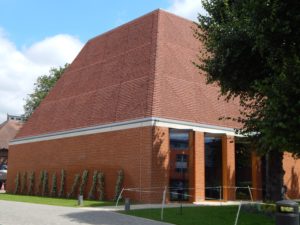 Tudor's flagship project was King's College Music School in Wimbledon. It was outright winner in one category for its magnificent roof. Its elaborate pattern was made up entirely of handmade plain tiles in bespoke shapes and sizes.
The same project then reached the finals of the prestigious 2019 AJ Specification Awards. These awards recognise how manufacturers and architects work together to produce great architectural designs.
Tudor's success
Tudor's MD Paul Lythgoe explains the company's success. He says it is down to the quality, authenticity and aesthetic appeal of the roof tiles. Tudor also prides itself on its flexibility. He says this makes Tudor able to work closely with clients in delivering unusual and challenging design briefs.
Paul Lythgoe said: 'At Tudor we have refined our manufacturing processes in order to produce consistently high quality products. They have a certain idiosyncratic and olde world appearance, which complements both historic and modern buildings. This is achieved through a fusion of traditional handmaking techniques with some very sophisticated digitally controlled kiln-firing, which gives a consistency of quality.'
An ancient tradition
Manufactured in Lydd in Kent from the finest English Etruria Marl clay, Tudor's handmade tiles are sought after. This is due to their lightly weathered and naturally aged appearance.
The subtle variation in their mellow tones, camber and texture is achieved through a painstaking handmade process. Each tile is carefully hand-pressed, moulded and trimmed. It is then kiln-fired for exceptional durability.
This method also means that no two tiles are ever exactly the same. Once blended together the tiles create a striking and unique roofscape that will gently weather and mature. The tiles will look even better with the passage of time.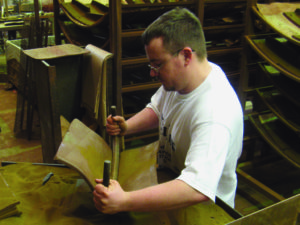 Keeping with the ancient tradition of English tile-making means that these traditional clay tiles are popular in conservation areas. Planning officers often specify peg and plain tiles for use on listed buildings.
Tudor is able to make bespoke and non-standard sizes to match the original roof tiles. This is important for the sympathetic restoration of many ancient roofs.
Creating a modern look
In recent years, the company has seen an increase in the use of its traditional roof tiles in modern homes and architectural projects. This combination of old and new creates a strong visual impact.
Last year Tudor took part in an episode of Channel 4's 'Ugly House to Lovely House' with George Clarke. The project was a drab 1960s detached house in Saffron Walden. The house was completely transformed using tiles, which were wrapped around the entire building (both roof and walls). This created a bold new look with a real 'wow' factor.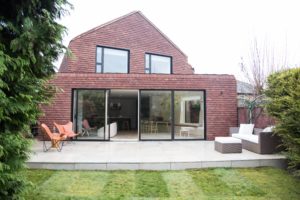 (Pic Courtesy of Amazing Productions)
The owners of the house, Lucas and Hayley Lepola, were delighted. They said: 'We found Tudor Roof Tiles to be terrific to work with. We couldn't be happier with the tiles themselves. Being handmade, each tile is completely unique and full of character. Given that the clay tile cladding is probably the most important detail of the project, we are very happy to have been able to work with Tudor Roof Tiles.'
Paul Lythgoe said: 'Although essentially a traditional material used widely in period buildings, the increased use of our products in modern architecture is an exciting development. This shows that genuine quality and craftsmanship supported by a strong ethic of customer care can deliver exceptional results.'
For more information contact:
Tudor Roof Tile Co. Ltd, Dengemarsh Road, Lydd, Kent TN29 9JH
Tel: 01797 320202, fax: 01797 320700
E-mail: info@tudorrooftiles.co.uk
Website: www.tudorrooftiles.co.uk