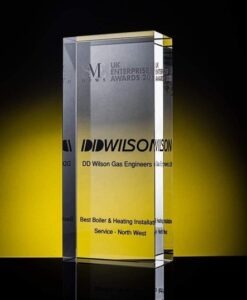 DD Wilson Gas Engineers was first set up by Darren Wilson as Wilson Gas in 2006. As a sole trader he relied on an old Ford Escort 55 diesel for transport, 100 business cards for marketing and contact was via a phone at home.
From the start, Darren's vision and mission were clear. Whatever heating or hot water problems arose in the local area of Merseyside, Cheshire and the North Wales Darren wanted Wilson Gas to be the household name that provided a premium service. Customers would make DD Wilson their first choice for boiler repairs or installations.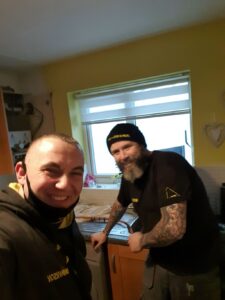 Darren and his wife Claire ran the business together. Claire was the company secretary, working from their spare room at home. Their children Darren and Dylan played while Claire worked, building up customer loyalty and trust. Darren spent the day out on the road, delivering the results and forming relationships with customers that are still firmly established today.
In 2008 they decided to form DD Wilson sole traders as a vision of one day when the boys would be able to help with the business and keep it within the family in the future.
A new business structure
Ten years later DD Wilson Gas Engineers Ltd was formed and they moved into the Big Unit in Knowsley industrial park in Merseyside in 2018. DD Wilson is made up of a team of full-time staff including a gas apprentice and an administrative apprentice. The staff are down to earth, genuine and friendly. Regulars frequently ask after the children are as they are often to be found in the office if they are not in school or out on the rounds with Darren.
The approach of the team at DD Wilson is a straightforward 'no mess and no stress'. Always using quality products the company aim to provide a premium service to customers, including quality aftercare. They provide installation service and repairs to all domestic gas appliances, mainly central heating and boilers and also provide a wider range of services including plumbing and installing bathrooms.
DD Wilson work with a broad range of clients, delivering an exceptional level of customer service to all. The caring attitude of the company has generated a great deal of repeat business, as well as some glowing testimonials. This has ensured the company is always in demand.
A trustworthy service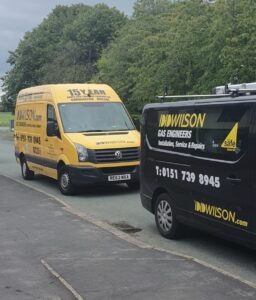 DD Wilson has never altered its core values. Finding people to work for the company is not just a matter of seeing if a candidate has the right skills, as training can be provided. A good-natured, friendly approach is important, too. Their reputation for honesty with their customers allows them to flourish. They keep their word as far as possible, and by doing so, prove themselves reliable and trustworthy.
Keeping morale high means the team are happy in their work. In turn the clients receive the best possible care throughout a job. That is why the team are paid above industry rates, not only to ensure their loyalty to the firm and to its customers but to create trust and respect. DD Wilson sees trust as central to the customer getting the first-class service that they deserve.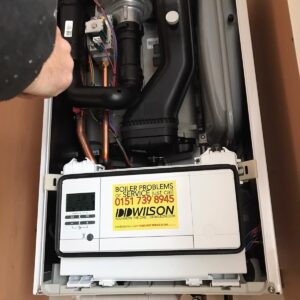 The company's use of premium products also sets the team apart as many customers understand that buying the best products you can is the best investment in the long run. DD Wilson adapts quickly and well to new products in the marketplace. Smart and voice heating control has proved to be important among many of the company's customers, so staff are fully trained in the latest technology from Vaillant products, allowing them to give well informed choices to customers.
Building on their reputation
As gas is a such an important commodity in our homes anyone who is having problems with a boiler quickly needs someone to help. They want someone who they can trust and who cares. Following the line 'people only care how much we know when they know how much we care', DD Wilson pride themselves on being both caring and knowledgeable gas engineers.
In 2020 DD Wilson won Best Boiler & Heating Installation Service in the North West at the UK Enterprise Awards (SME businesses). The same year was also one of the most challenging times due to the Covid pandemic. During this difficult time DD Wilson carried on supporting their customers and helping out as best they could. After being recognised for Guild membership in the same year, they haven't looked back.
Their forward plan is… keeping customers happy now and for many years to come.
Another outstanding Guild member offering unrivalled service to the local area!
For further information contact via:
Unit 8 Redwood Point, Woodward Road, Knowsley, Merseyside L33 7UZ
Website: www.ddwilson.com
Tel: 0151 739 8945
Email: info@ddwilson.com